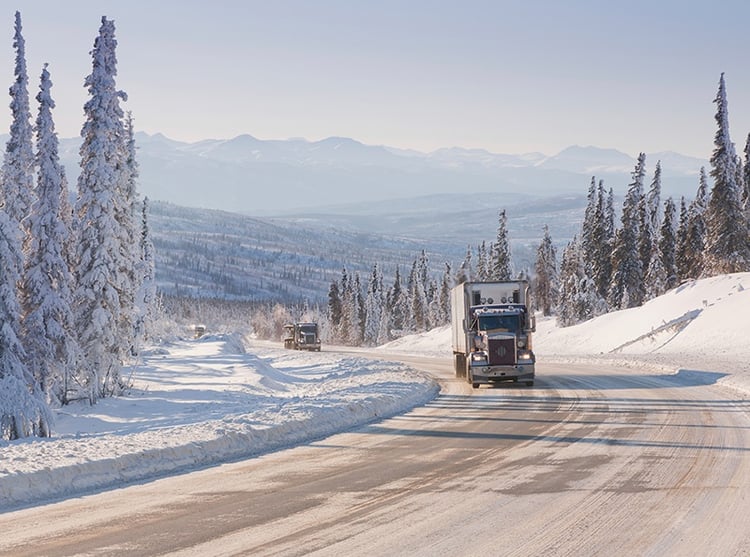 Winter weather is here, time to get your fleet road-ready and reliable during these cold months. Playing weather-roulette with your fleet, drivers and daily operations is never a good idea. Take action and prepare for winter weather—rather than trying to predict it—so when Mother Nature plays her wicked winter games, you'll know your drivers are safe and your fleet is in top condition to run at peak performance.

Follow these vehicle winterizing tips and even share them with your drivers and appropriate team members. An ounce of prevention is worth a pound of cure and can mean the difference between your vehicles rolling along or grounded.
Gas—Keep vehicle tanks as full as possible and at the very least, half full. Having plenty of gas in the tank is always wise. Plus, the more gas in the tank, the less the chance of moisture freezing the gas line.
Oil—As the temperature drops, the right viscosity of motor oil is very important. Check your owner's manual for the correct viscosity to use in freezing temperatures.
Fluids—Flush the coolant system and replace the coolant. For best performance, use 50% antifreeze (coolant) and 50% water. Check and top-off power steering, brake, windshield washer and battery fluids.
Spark Plugs—Check spark plugs and clean or replace if necessary. A misfiring or a jittery engine could mean a breakdown along the road.
Belts—Cold weather can be rough on your vehicle's belts. And a worn timing belt or v-belt could mean trouble. Inspect belts for signs of fraying and cracking and if worn, replace.
Battery—In winter weather, you need maximum cranking power. If your battery is over three years old, it may be money well spent to replace it. Also, keep the battery contacts free of corrosion with a battery post and terminal cleaner.
Brake Pads and Shoes—In slippery winter conditions, optimal performing brakes are top priority. A high-pitched sound when brakes are engaged means time for a new pair.
Tires—Make sure tires have plenty of tread. And if your vehicles operate in an area where winter weather conditions are extreme, winter tires may be best for better traction. Also, make sure tires are properly inflated as they lose pressure as the temperature drops. Check the spare for proper air and have tire-changing equipment on board.
Wipers—Inspect blades for faying or cracks and replace if in poor condition. You may want to consider using heavy-duty blades to better handle ice buildup.
Lights and Reflectors—Make sure you are as visible as possible. Take a walk around your vehicle to see if all lights are properly functioning. Check reflectors for cracks and wipe off any dirt.
In addition to the tips listed above, you may also want to contact your fuel provider to discuss telematics solutions for your fleet. During the winter months, fuel mileage is poorer and drivers often let vehicles idle more to warm up the engine.

Extra idling can send fuel costs skyrocketing and drivers spending more time refueling. Telematics solutions can help you identify fuel wasting activities and monitor fuel use and idling times, so you can get the most out of your fuel budget. They can also help you automate fleet maintenance schedules and expenses to prevent and address vehicle problems before they become a major headache.