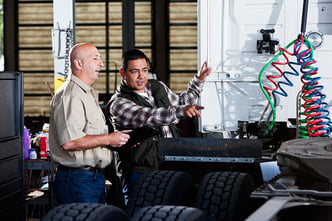 According to the AAA motor club, nearly 56% of U.S. drivers are planning a road trip this summer. Partly due to gas prices lower than they have been in 11 years, travel and gasoline consumption are on the upswing.
Take for example this past Memorial Day. AAA projected more than 34 million Americans traveling on the road to their destinations—an increase of 2.1% from last year.
Yes, it seems that the great American road trip is not only back, it's here to stay.
The Road More Traveled
So exactly what does this uptick in summer road travel mean for your fleet?
Quite simply, it means more cars on the road, more chances of an accident, more stop-and-go traffic and more gridlock—meaning engines overheating, air conditioners more susceptible to failing and brakes getting quite the workout.
Just as you protect your fleet from the harsh weather conditions of winter, you need to protect against summer conditions as well, including those caused both by man—more cars on the road—and by Mother Nature–rising temperatures, thunderstorms and flash floods.
Getting In Shape for Summer
Getting your fleet ready for summer by removing signs left behind by Old Man Winter leads to greater safety, cost savings, satisfied customers and protects your business from possible litigation due to negligence.
This handy checklist will help you keep your vehicles sailing smoothly and safely through the summer months and your drivers productive and protected.
Tires
Winter weather is tough on tires and hot temperatures can increase tire pressure. For better fuel economy, remove snow tires and check the tire pressure several times a month. Examine the tread depth for any signs of excessive wear and replace if necessary. Make sure the spare is properly inflated and has plenty of tread and that drivers always have a tire gauge in their vehicle.
Hoses & Belts
Fluctuating temperatures can cause wear and tear on hoses and belts. Visually inspect for cracks on belts and check for proper tension. Squeeze hoses near the end and replace if they feel spongy. As a rule of thumb: timing belts should be replaced every 60,000-90,000 miles; V-belts every 40,000-50,000 miles.
Electrical System
Exposure to road salt from winter can cause corrosion. Test the alternator and also check the battery and the engine's electronic control unit for signs of corrosion or frayed wiring.
Air Conditioning
A properly working air conditioner is imperative for vehicles in the summer months. To ensure your drivers are cool and comfortable, check for refrigerant leaks and clogged filters and make sure the condenser is free of dirt and/or debris.
Air Filter
Over the winter, an air filter can become clogged with salt and other debris. Changing it at regular intervals can help increase gas mileage and keep your systems properly running by supplying them with the fresh air they need.
Coolant & Radiator Fluid
Heat is no friend to coolant systems and can cause engines to overheat and become damaged. Check fluid levels periodically and consult the vehicle owner's manual to determine when to drain and replace the fluid.
Battery
Dead batteries are no fun and the summer heat can be a battery killer. If the battery is close to five years old, you may want to go ahead and replace it to prevent a dead battery "surprise." Also, check for corrosion on terminals, clean them if necessary and make sure they are tight.
Brake Pads & Shoes
Don't wait until it's too late and brakes are not as effective when you need to make a sudden stop in a traffic jam. Not only is this a safety risk, it can damage the rotors. If you hear a high-pitched sound, that's the "wear indicator" grinding against the metal of the rotors and it's saying, "replace now."
Wipers
You don't want to get caught in a summer downpour with bad wipers. Ice and snow can cause blades to crack and fray. If blades are leaving streaks or not very effective in clearing light rain, it's time for new ones.
Fluids
Top off all fluids, including brake, coolant, oil and power steering. Replace oil often and take care of any oil leaks. Winter temperatures can speed up the breakdown of oil as can extreme heat, causing it to become less effective as a lubricant. If your vehicles carry heavy loads or are driven on dirt roads, it is a good idea to change oil more often then the usual 3,000 to 5,000 miles.