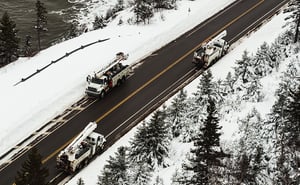 In mid-October, The National Oceanic and Atmospheric Administration (NOAA) released its annual winter outlook for December through February, and the good news is that a mild winter with drier conditions and above-average temperatures could be in store for much of the United States.
The key word, however, is "much." The outlook for the Southeast, East Coast and Mid-Atlantic is not quite as rosy, with the amount of precipitation expected to be above average and the chances of colder-than-normal temperatures greater than anywhere in the country.
This means — especially for those regions — that snow, ice and freezing temperatures can present numerous challenges for utility fleets. Since winter hazards are not out of the picture this year, neither should your preparations be for winterizing your vehicles and equipment.
As Goes El Niño, So Goes Winter
The NOAA's outlook is largely dependent on an El Niño event —characterized by warm water in the western Pacific Ocean shifting eastward toward the South American coast — to develop.
Mike Halpert, Deputy Director of the NOAA's Climate Prediction Center, estimates the chances of that happening in the next few months to be between 70 and 75 percent. But, he also predicts a weaker event than the one in the winter of 2015-2016, which was one of the strongest ever.
But, here's the thing, a weaker El Niño event could easily reach moderate strength, and no matter the strength — weak, strong or somewhere in between — it's nothing fleet managers should take lightly. Being proactive and preparing for winter conditions in advance helps ensure vehicles and equipment are in peak operating condition and can mean the difference between serving your customers or experiencing unexpected downtime.
Winterizing Best Practices
To that end, here's a winterizing best practices Top 10 to help keep your utility fleet operating effectively throughout the winter months, no matter what Mother Nature throws your way.
Keep up with preventative maintenance and regulatory inspections on vehicles and equipment throughout the year, so they are in peak operating condition and you can serve your customers safely and reliably.
Make sure services are in place with your fuel provider to offer emergency fuel for your vehicles and equipment if needed, and also have an after-hours contact for any parts you may need.
To combat common challenges associated with winter conditions, including no-starts, ice covered windshields, frozen door locks, increased service calls and an increase in towing, it's a good idea for drivers/techs to have jump packs or personal battery chargers on board. Additionally, make sure to stock up on supplies, including wiper fluid, wiper blades, lubricants, anti-freeze, portable salt containers, flares, batteries, ice scrapers and winter gear for drivers.
To reduce stress on engines, batteries and starter motors, consider block heaters to keep vehicle engines warm.
For bucket trucks, inspect hydraulic and bucket truck accessories, including the hydraulic system, control panels, bearings, lines and fittings. Many units have electronic "over-stow" switches that can become engaged and prevent the boom from operating properly when ice is present. Have water and a rubber mallet in the vehicle to free the switch and get the boom operating properly. Check all equipment, including aerial devices and generators, to ensure water is not present in reservoir tanks or hydraulic oil tanks.
Check windshields for cracks, wiper blades for fraying or cracking and top-off windshield fluid. For tough ice build-up, consider switching to heavy-duty winter blades.
Inspect heater/defroster operation, tire tread condition, tire chains, batteries, battery connections, belts, hoses and spark plugs. Consider winter tires for better traction, and if a battery is more than 3 years old, it may not be up to the extra cranking power often needed in colder conditions, so it's probably wise to replace it.
Keep gas tanks as full (at least half) as possible to prevent moisture from entering the tank and freezing gas lines. For diesel engines, consider additives and switching to a winter blend diesel.
Check and top-off engine coolants, power steering, brake and battery fluids.
Ice, and especially road salt, can damage exterior paint, which can lead to corrosion. A quality paint coating, wax or sealant can help preserve the paint, and frequent washing can help remove any corrosive materials picked up from the road.
Being successful in the present often means gaining insight from the past. Take a look back at how your fleet operations fared during previous winter months and how you can improve.
Preparing for winter takes a year-round effort. Are you ready?
If you are ready to take your winter prep to the next level, download Preparing Your Fleet For Disaster Checklist.