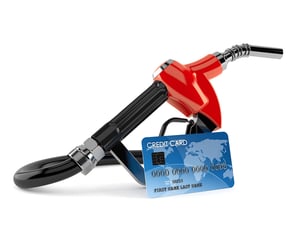 With the many providers in the fuel card industry and number of cards available, each with various options and features, determining the card that best fits the needs of your company and gives you the greatest return on your investment can be a challenging process. However, answering some key questions about your fleet and your requirements can help whittle down your choices and simplify the decision-making process.
Whether you're a small business with a handful of vehicles or a large enterprise with several hundred, the right fuel card can provide bottom line benefits that conventional credit cards or cash just can't. These include:
Greater control over fuel expenses
Lower fuel and maintenance costs
Fuel theft protection
Streamlined reporting
Complete account transparency and 24/7 control
So, let's take a look at some of those questions, which, in answering, will give you a solid idea of the requirements and needs of your fleet, as well as the benefits you can expect.
What are the primary areas in which the fleet operates and will operate in the future? What distance do the vehicles travel? Is the fleet centralized or de-centralized?
Cards offer different acceptance options, including universal, major brand, truck stops, proprietary network access and hybrid. Depending on the card, acceptance may be in only certain regions or at specific stations. Cards with limited acceptance options may not be a cost-effective choice, since they restrict drivers to only a handful of stations, meaning drivers may spend excessive time — and money —looking for an accepting station. Universal cards provide the largest network, with access to every major fuel brand and acceptance at approximately 90% of all fuel locations in the U.S.
Do drivers stay with the same vehicle throughout the work schedule, or are vehicles rotated between drivers? What is more important to track — drivers or vehicles?
Fuel cards can be either vehicle cards that are assigned to (and remain with) the vehicle, or driver cards that are assigned to drivers. Driver cards are best for companies with drivers who stay with the same vehicle throughout their work schedule, while vehicle cards are best suited for companies with drivers who rotate vehicles. Both can be set up with controls to manage purchases and deter misuse.
What is the pricing and the fees associated with the card?
Fuel prices and fees vary by fuel provider. Examining your present fuel expenses and considering how they may look in the coming months is key to determining what card would work best with your budget.
With a fuel card, the pump price is not necessarily the price you pay. Some providers allow you to batch purchases and, after a certain period, give you volume-based pricing. However, be aware this could come with requirements or fees. Some providers offer discounts or rebates if cards are used at proprietary sites within a network, which may or may not be where your vehicles travel. And, when comparing pricing, don't overlook fees, such as transactional fees, card fees, reporting fees, late fees and finance charges.
What purchase controls are needed? Which provider makes it easiest to utilize the spending limits the company needs?
With a fuel card, you can restrict the way a card is used by setting purchase controls that help prevent card misuse. Common controls include price limit, time of day, what purchases can be made and how often they can be made. Having specific parameters is key, as is not being overly strict or too lax with the controls you choose. Understand what controls a fuel card offers, and ask yourself how you expect the card to be used.
To gain greater control over fuel expenses and driver purchases, what security is needed? What data needs to be captured?
Cards support Level I, Level II and Level III data. If you only require basic information about card transactions — date, time, merchant name, amount — a card that supports Level I data is probably sufficient. Level II captures additional data, including tax information, as well as name, city and state where a transaction took place.
Level III captures all the data of Levels I and II, plus fuel type, fuel group, gallons, cost per gallon, vehicle name and number, odometer reading, driver name, etc. — in essence, all the data needed to calculate the distance and MPG of each transaction, to determine an accurate cost basis for pricing strategies. Level III also features enhanced security.
Some of the larger fuel card suppliers integrate fleet management products with their cards, which enables them to provide additional data, such as cost per mile, automatic fuel economy calculations, irregular purchase monitoring, etc. This integration of products also provides an extra level of security.
Learn more about the flexibility and control you can gain through the PS Energy Fleet Fuel Card Program.