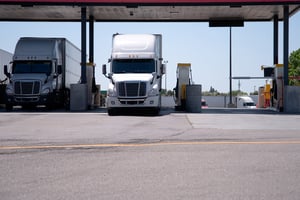 There are a number of options fleet managers might choose to help them manage fuel use and spend. These options include:
Traditional Credit Cards
Purchasing Cards (P-Cards)
Programs Offered Through Local Vendors
Manual Fuel Transaction Receipts/Reimbursements
Fuel Cards
Depending on various factors, all of these options can provide savings at the pump, and some may even offer rebates. However, there is only one option that offers transactional data and purchase controls for cost- saving benefits beyond the pump. That option is fuel cards.
A Cost-Saving and Effective Management Tool
Fuel cards provide capabilities that credit cards, P-Cards, local vendor programs, and manual transaction options do not, including:
Detailed and accurate online reporting
Driver and vehicle profiles attached to each card and transaction
Secure pre-set controls to prevent unauthorized or inappropriate use
Level III data capture, including:

Vendor and Vendor Location
Time/Date
Driver and Vehicle ID
Odometer Reading
Gallons Purchased
Cost per Gallon
Fuel Type
Tax Data
Typically, fuel cards are assigned to each driver, with a unique pin number to purchase fuel or make needed maintenance repairs when the driver is on the road. When a purchase is made, data about the purchase is collected and made readily available to fleet managers. Fleet managers can use this data to identify opportunities that control costs, improve efficiencies, and drive accountability, for bottom line boosting benefits beyond the pump.
Let's take a look at three key fuel card capabilities and the benefits they provide.
1. Accurate and Detailed Data Capture Reporting
Fleet cards provide line-by-line, online reporting, detailing the who, what, when, and where regarding purchases. This capability allows fleet managers to manage fuel spend, driver behavior, fleet sustainability, and total cost of ownership. This makes it easy for fleet managers to identify problem areas and opportunities for improvement. For example, the data may show that a vehicle is burning fuel much faster than usual. Knowing this information means that immediate action can be taken to determine the cause, which could be poor driving habits or a mechanical issue. As a result, the issue can be quickly resolved before it becomes a costly problem.
Additionally, online reporting can help reduce administration time, allowing fleet managers to focus on their core responsibilities instead of time-consuming processes like managing receipts and reimbursement payments.
2. Theft Control
With a traditional credit card or other purchase options, drivers can easily purchase unauthorized convenience store items or fuel their personal vehicles on the company's dime. This is not the case with fuel cards, which give a company total control over what purchases drivers can make. This capability not only helps minimize unauthorized fuel spend or fraud, but it also optimizes overall business operations.
Fuel cards can also help identify unauthorized or inappropriate purchases and prevent them. For example, pre-set controls can be customized for each driver, based on their schedules or tasks. Likewise, email alerts can be created to alert managers of a driver using the card against a set restriction. These restrictions can be the types of purchases a driver can make (fuel only, fuel and maintenance, etc.), where purchases can be made, at what time of day they can be made, and how much fuel can be purchased daily.
3. Vehicle Maintenance
Reporting capabilities and controls can help manage maintenance costs and reduce vehicle downtime. Timing of routine vehicle maintenance is simple to track by requiring an odometer reading each time a driver fuels their vehicle, thus tracking mileage. Controls can restrict where drivers take vehicles for maintenance, ensuring that only company approved professionals are servicing fleet vehicles.
PS Energy's custom-tailored, fleet fuel card program gives you greater flexibility and control to manage your fleet retail purchases with fuel cards that can be controlled at both the card and account level. Learn more about our program here.