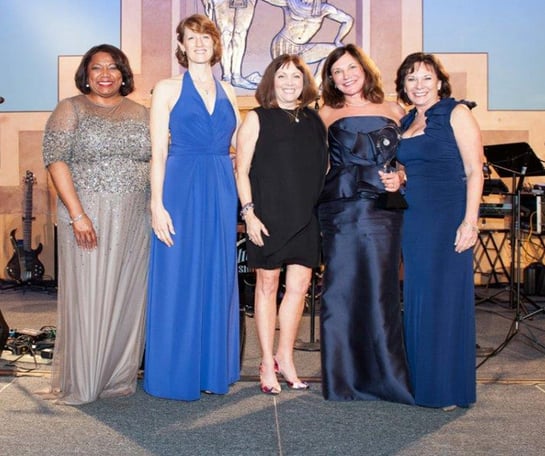 We are proud to announce that Livia Whisenhunt, Founder, President and Chief Executive Officer of PS Energy Group, received the Greater Women's Business Council's GWBC 2015 LACE Trailblazer Award in Category IV: Annual Sales More Than $10 Million.. No stranger to industry awards and recognition for her leadership, vision and achievements in business and the community, Ms. Whisenhunt accepted the award at the GWBC annual LACE Awards ceremony held November 12th at the Fox Theater in Atlanta. The LACE Awards honor GWBC members and certified women business enterprises (WBEs) that have created initiatives and made significant contributions to empower women-owned businesses in the region.
Congratulations, Livia! Well done and well deserved!
A nonprofit women's business organization, the GWBC is a regional partner of the Women's Business Enterprise National Council (WBENC), the nation's leading advocate of women-owned businesses as suppliers to corporations throughout the United States. The GWBC covers the Georgia, North Carolina and South Carolina region—the states with the fastest growing number of women's businesses in the country—and is committed to enhancing the value of WBEs through certification, education and partnership opportunities.
WBE certified PS Energy is one of the top diversity and women-owned companies in the United States and in 2009 was recognized by Hispanic Business Magazine as the third largest Hispanic-owned energy company in the country. Steadfastly committed to supplier diversity, PS Energy works with qualified minority and women-owned and operated suppliers who meet their Supplier Diversity program requirements—the goal of which is to create long-term value for customers and the local community, while helping suppliers grow their businesses.
Livia says, "I am truly honored to be recognized by the GWBC for this award and proud to be a member of an organization that empowers women-owned and operated businesses. WBE certification has been invaluable in helping PS Energy and our diverse suppliers achieve success through networking, government contract opportunities and access to corporate buyers who recognize the value of doing business with WBEs."
..