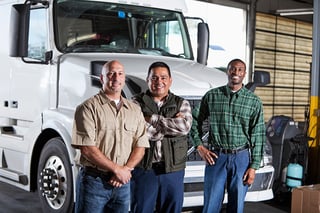 According to the U.S Census, the minority population in the United States increased from 32.9 percent in 2007 to 37.9 percent in 2014 with four states—Hawaii, California, New Mexico and Texas—and also Washington D.C.—"majority-minority."
As you can well imagine, with the rising minority population, the number of minority-owned businesses has also risen. In fact, according to the Minority Business Development Agency, from 2007 to 2012 minority-owned businesses increased a whopping 39 percent—from 5.8 million to 8 million.
With the number of minority-owned businesses on the rise and therefore a shifting economic power, more and more companies are embracing, as a core part of their business, a strategy that encourages the growth of diverse businesses, the growth of their own bottom line and the strengthening of communities.
It's called supplier diversity and let's take a closer look at why.
Supplier Diversity 101
Supplier diversity ensures a diverse supplier base in the procurement of goods or services for a business or an organization, including government, not-for-profit and private industry.
There are approximately sixteen categories to identify minority-owned businesses with the most common being Small Business Enterprise (SBE), Minority Owned Business Enterprise (MBE), Women Business Enterprise (WBE) and Veteran Business Enterprise (VBE).
In order to report diverse spend, it is important that suppliers are certified, as diversity certification authenticates that a business is owned, managed, and controlled by a qualifying diverse group. With certification, minority-owned businesses can bid on jobs with companies they are looking to partner with.
Organizations including the Women's Business Enterprise National Council (WBENC) and the National Minority Supplier Diversity Council (NMSDC)—both of which PS Energy is a member—offer third-party certification services to assure that a business is categorized correctly and meets the criteria for certification.
Good for Business, The Community and The Economy
Supplier diversity benefits companies of all sizes, across a wide range of industries, benefits communities and helps diverse suppliers grow their business and gain a competitive advantage—all of which help the overall economy. Additionally, supplier diversity:
Promotes innovation with new products, services and solutions
Provides multiple channels to procure goods and services
Drives competition between vendors
Allows a company new opportunities for expansion as demographics shift
Shows a company is committed to doing business in diverse markets and committed to community growth
Supplier diversity also eliminates many of the challenges that minority-owned businesses often encounter regarding start-up and sustainability. Taking the pain points out of the picture encourages minority entrepreneurship, which is a plus all around.
PS Energy and Supplier Diversity
PS Energy has been committed to supplier diversity since its incorporation in the State of Georgia in 1986 and is one of the top Hispanic-owned and women-owned businesses in the United States.
The cornerstone of their supplier diversity program is developing mutually beneficial business relationships with minority and women owned and operated businesses, by providing them the opportunity to deliver goods and services to PS Energy and to their customers. The goal is to create long-term value for all—customers, the community and diverse suppliers.
To participate, qualified diverse suppliers must meet the criteria of PS Energy's supplier diversity program and must be categorized as one of the following:
Minority Business (MBE)
Certified as at least 51% owned and operated by a minority individual or group
Women Business (WBE)
Certified as at least 51% owned and operated by one or more women
Small Business Concerns
Businesses with the number of employees and/or average annual receipts not exceeding the size standards as defined under the Federal Acquisitions Regulations
Veteran Owned Business
Certified at least with a veteran status and 51% veteran ownership per the Veterans Administration requirements
Diverse status is required and can be obtained through certification documents from the following agencies:
National Minority Supplier Development Council (NMSCD) or its affiliates
National Association of Women Business Owners (NAWBO)
Women's Business Enterprise National Council (WBENC)
S. Small Business Administration (SBA)
National Veteran Business Development Council (NVBDC)
If you are interested in working with PS Energy as a diverse supplier, registration is a three-step process. To learn the particulars, please visit us here, email us at info@psenergy.com or call 770-350-3000 with any questions or concerns.
It is important to note that requirements for participating in a supplier diversity program vary by company. And while there may not be a "one size fits all" regarding various programs, you could say there is one when it comes to strategy: everyone wins.