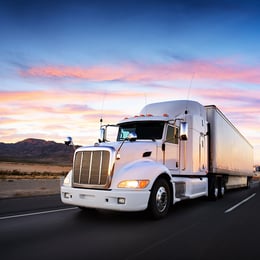 You have probably heard more news and buzz surrounding electronic logging devices (ELDs) and their December 2017 mandated use than you can count. Once again, you're soon to be hit with more government rules and regulations—rules and regulations that slow productivity and make growing profitability and managing your fleet operations not exactly easy.

Or so you may think.
The fact is, ELDs can actually help increase productivity, improve efficiencies and boost your bottom line in as little as a few months. So why wait until the eleventh hour to integrate ELDs into your fleet?
By getting ahead of the curve and implementing sooner rather than later, you can take full advantage of the benefits of using ELDs. You'll also help smooth the transition and flatten the inevitable ELD learning curve with drivers, routing and the back-office before the technology becomes mandatory.
ELD 101
If you are currently required to maintain logs for your record of duty status (RODS), you'll be required to use an ELD regardless of whether you have two vehicles in your fleet or 200.
So what exactly is an ELD?
An ELD is a tamper-proof device—"a little black box"—built and certified to specific FMCSA (Federal Motor Carrier Safety Administration) requirements. It is securely connected to a vehicle's engine and electronically logs all vehicle activity including:
Engine on and duration
Vehicle moving
Vehicle speed
Vehicle location and trip history
Depending on the needs of your fleet, you can implement a simple ELD device that tracks hours, miles, change of duty status, etc. as required by the regulations or go with a scalable solution that also offers back-office management capabilities.
To get an idea of what works best for you, it may prove productive to test a couple of different platforms in a few of your vehicles and see how each performs.
There are plenty of hardware and software options to choose from and it's important to know that when choosing a solution there is no "one size fits all"—each fleet requires a unique solution to achieve the maximum return on investment (ROI).
With a better idea of the basics, let's look at some of the benefits ELDs provide and why compliance—at least in the case of ELDs—means profit and not peril.
Goodbye to Paperwork
Paperwork is a time consuming task that in the case of drivers, greatly reduces their time on the road. Quite simply, paper logging lowers driver productivity, which means less money in your pocket.
ELDs do the opposite. They put more money in your pocket by improving driver productivity through electronic logging that automatically records hours of service (HOS) on an in-cab device. This frees your drivers from excessive paperwork and allows them to concentrate on what you hired them to do—delivering your products and/or services.
Electronic logging also speeds up roadside inspections, as drivers only need to provide a screen display of their e-logs or take part in a roadside data transfer.
Also, with paper logging out of the picture, gone are the costly fines associated with human error, the need to track down errant drivers and the staff needed for record keeping.
Insurance Savings
The FMCSA found that vehicles with an ELD had an 11.7% lower crash rate and 5.1% lower preventable crash rate than vehicles without the in-cab hardware. Because of the decreased risk, many insurance companies offer increased benefits and lower premiums for fleets that use ELDs—which of course is good news for your bottom line.
Increased Safety
According to the FMCSA, the primary reason for the ELD mandate is to increase safety and efficiency. ELDs mean more accountability. More accountability means safer driving and fewer accidents.
Take speed, for example. Speed is a factor in nearly 1/3 of all fatal crashes. Not only is excessive speed dangerous, it consumes large amounts of fuel. ELDs can help reduce speed by alerting both you and your driver of the current vehicle speed—a benefit that has resulted in some fleets seeing a 90% speed reduction—saving lives, saving fuel and the costs associated with traffic ticket fines and penalties.
Lower Fuel Costs
ELDs help reduce hard braking which is both dangerous and is such a fuel waster, it can lower MPG by as much as 30 percent.
ELDs can also help you save on fuel costs by cutting engine idle time, which is another major fuel waster.
Two other benefits of ELDs in the fuel savings picture are route optimization, which leads to greater efficiency, while another is making sure your driver is using their fuel card for authorized purchases and not for fraudulent or personal use.
The benefits of ELDs add up to a savings opportunity. December 2017 will be here sooner than you think and there is no time like the present to contact providers, get on board and reap the rewards.
For additional information, visit www.fmcsa.dot.gov
For more help with fuel economy, find out about our fuel card programs designed especially for fleet management.