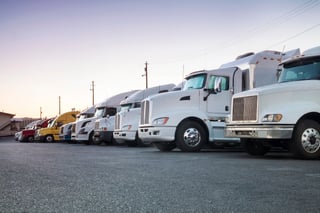 When Greek philosopher Heraclitus made the observation a couple thousand years ago that "change is the only constant in life," he certainly wasn't talking about fleet management. But if fleets actually existed way back then, he sure could have been, since it seems that the one constant in the life of a fleet manager is change.
Changes in the fleet management industry are accelerating at a rapid pace. Think of the ever-changing government rules and regulations -- the increasing number of technologies in the marketplace to improve efficiency and driver safety or the new categories of vehicles, alternative fuels and engine oils to help drive savings at the pump.
To stay ahead in the fleet management game, you can't afford to ignore what is changing or trending within the industry. Living in a "safe" bubble and conducting business as usual is where you don't want to be. Doing so can mean losing customers and drivers, and having the competition pass you by.
So what's currently changing, trending and generating buzz? Here we'll take a look at a "top five" to help you prepare for the road ahead.
Safety Concerns
According to a cross-section of fleet managers surveyed by Automotive Fleet, driver and vehicle safety is a top issue—particularly the lack of driver compliance with fleet safety policies regarding cell phone use while driving.
With traffic deaths and truck-involved fatalities up over last year, enforcing safety policies to help reduce distracted driving is definitely on the minds of fleet managers. But according to the survey, enforcing those policies is becoming more of a challenge, as is achieving a safe balance for mobile device use when behind the wheel.
Vehicle safety features are growing in demand. For example, there's considerable talk around video cameras in vehicles—both forward-facing and the more controversial, driver-facing. Additionally, there are more and more fleet management software options to monitor driver behavior, and according to Fleetmatics, fleet management software improves driver behavior in approximately thirty percent of fleets.
Fuel Price Complacency
While it's probable that low fuel prices will continue through 2016, there is much uncertainty in the air regarding the fuel marketplace for the long-term, which makes accurate fuel budgeting difficult.
Most fleets have a solid fuel management program in place—and if you don't, you should. With fuel prices at current lows, fleet managers need to be proactive and keep a watchful eye on their fuel efficiency efforts, as these prices won't be around forever. With the current price dips, fleet managers are taking a hard look at fuel consumption strategies—alongside their fuel providers—that are sustainable for the long-term, including alternative fuels and fuel technologies.
Data Management and Analytics
Fleet managers are realizing the value of big data and how it can help cut costs, boost the bottom line and provide a competitive advantage.
Business intelligence software, for example, can connect drivers with the front and back office, allowing workforce in different operational areas to share data that's instantly available on their computer or other device. Managing data becomes more efficient and effective, meaning it can be analyzed and transformed into insights that identify cost-saving opportunities, improve operations and add value.
Cost-Containment
While fuel prices have provided some bottom-line relief, most other fleet costs are on the rise and sending TCO and running costs per mile skyward.
One area of concern that Automotive Fleet found in their survey of fleet managers is rising vehicle acquisition costs, which hamper the ability of fleet managers to spec appropriate vehicles for their fleet. As a result, optimizing a vehicle replacement and acquisition strategy becomes a challenge and can adversely affect driver satisfaction and productivity.
According to fleet managers in the survey, the upward trend in acquisition costs is caused by several factors, including the increase in standard equipment, as well as government safety and fuel efficiency efforts.
Too Many Regulations
Safety and environmental rules and regulations are constantly changing at the state, local and federal levels, and that trend is certain to continue.
Fleet managers are concerned about the direct costs state and local regulations add in the form of compliance fees and expenses and the indirect costs, in the form of decreasing driver efficiency.
One FMCSA regulation currently getting a lot of attention and causing a lot of questions and anxiety from fleet managers and drivers is the ELD rule—requiring traditional paper logbooks to be replaced in select vehicles by ELDs to track drivers' hours of service (HOS).
Fleets are currently developing strategies for operating after the December 18, 2017 compliance date, and the ELD rule buzz will only get louder as the date gets closer.
What changes and trends are on your mind? Let us hear from you.