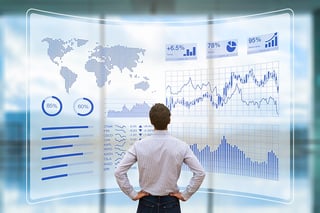 While there is some uncertainty over the origin of the saying, "that which is measured, improves," there is zero uncertainty regarding the value of measuring and its relation to fleet performance.
Simply put, measuring helps fleet managers gain valuable insight into what's working and what's not, allowing for faster and smarter data-driven decisions that can help improve every aspect of fleet operations.
Since most fleets today take advantage of technology solutions that capture data, fleet managers are increasingly looking for innovative ways to use all that data to gain a competitive edge. One way is measuring fleet performance by implementing and tracking key performance indicators or KPIs.
Measuring for Success
KPIs are quantifiable and specific measurements that drive fleet and organizational performance. For KPIs to be effective, they must make clear what will be measured and how it will be measured. They should be measurable, meaningful and actionable, tied to the overall goals of the organization and give everyone — not just management —a clearer picture of what success looks like to the organization.
With the ELD mandate now law and ELD devices implemented in the majority of fleet vehicles, there's no better time to reap one of the key benefits that ELDs bring to the table. And that's the ease of collecting data — data that can be used to implement KPIs, track key metrics, identify opportunities and make improvements.
While KPIs will differ from fleet to fleet depending on fleet size and vertical, the most common KPIs that industry insiders say every fleet should be tracking are KPIs related to safety, efficiency and compliance.
Let's take a closer look at each of those.
Safety KPIs
Safety is always a top — if not the top — priority. Monitoring driver behavior and using data for coaching and training is key to a safer fleet. In fact, data compiled by Automotive Fleet, shows that more than 20 percent of total fleet vehicles are involved in accidents every year with the majority related to preventable driver behaviors.
To that end, it's not surprising that the top KPIs for safety are related directly to driver behavior:
Speeding incidents
Corner handling incidents
Harsh acceleration and braking violations
Crashes
To ramp up safety, data should not only be collected from tracking the above KPIs, it should also be used to create weekly or monthly driver scorecards that include data for each driver on the frequency of each event.
Posting scorecards in a common area will help create a friendly-competition among drivers with the best drivers rewarded. Additionally, scorecards with greater detail should be created per driver for individualized coaching and training.
Efficiency KPIs
Fuel management and maintenance issues are also a top concern with fluctuating fuel prices, vehicle depreciation and asset utilization, which are common challenges across fleets of all sizes.
To help meet these challenges head-on, efficiency KPIs to track include:
Fuel economy for each vehicle, including idle time
Empty miles
Fleet asset utilization
Data collected can help identify risky driver behaviors, such as speeding and excessive idling, that waste fuel and cause wear and tear on vehicles, meaning vehicle depreciation and higher maintenance costs. As with safety, drivers can be trained to avoid these behaviors for safer driving, fewer crashes and lower costs.
Tracking asset utilization gives fleet managers a clear picture of empty miles, how assets are used and how best to use them. For example, data can help optimize fleet utilization and help determine the number of vehicles needed, which can help reduce fuel, maintenance and insurance costs.
Compliance KPIs
Easier and more accurate Hours of Service (HOS) recording and unassigned mileage by vehicle are key objectives of the ELD mandate, and fleets should track these compliance KPIs:
Available HOS
HOS violations
Unassigned mileage by vehicle (FMSCA wants all driving time captured)
Dispatchers should review HOS data daily and review violations data on a weekly basis. Violations do not need to be reported, but need to be tracked in case there is a DOT audit.
ELDs Make it Easy
With the ELD mandate in full force, the data collected by ELD devices can greatly improve safety and fleet operations. The key is the data must be put to work, and fortunately for fleet managers, ELD devices make that job easy to accomplish.
For example, alerts can be set up within the ELD platform for safety issues and impending HOS violations. And all safety, efficiency and compliance KPIs discussed above should be automatically collected by an ELD device, making reporting simple.
ELDs are here to stay -- so is improving fleet operations and the bottom line, but only if you take advantage of the data collecting power that ELDs have to offer.