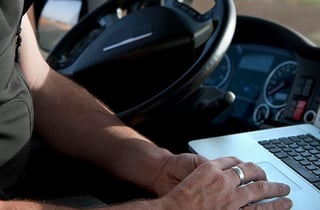 The Electronic Logging Device Mandate, which is more commonly referred to as the ELD Mandate, is a federal rule published December 2015 by the U.S. Department of Transportation (DoT) and the Federal Motor Carrier Safety Administration (FMCSA).
Implemented in three phases, with Phase 2 going into effect in less than a month on December 18, the rule applies to most motor carriers and drivers who are currently required to maintain records of duty status (RODS). The rule's intention is to help create a safer work environment for drivers and to make tracking, managing and sharing RODS faster and easier.
With the December 18 Phase 2 compliance deadline approaching, let's take a closer look at what your fleet operations can expect benefits-wise from ELD integration.
On Deck: Phase 2
Unlike Phase 1 that focused on awareness and transition and allowed voluntary use of ELDs, Phase 2 is ELD final rule compliance, making use of self-certified and FMCSA registered ELDs mandatory for carriers and drivers subject to the rule.
One exception is vehicles equipped with an automatic on-board recording device (AOBRD) installed before December 18, 2017. Those vehicles are grandfathered in until December 16, 2019, when Phase 3 is implemented and full ELD compliance goes into effect. On that date, all carriers and drivers subject to the rule will be required to use self-certified and FMCSA registered ELDs.
Goodbye Paper – Hello Bottom-Line Benefits
When Phase 2 is implemented on December 18, ELDs will replace the paper log books that have been in use since 1938, when hours of service (HOS) compliance was first required—primarily over safety concerns for commercial drivers and the public.
From December 18 forward, manual recording by drivers in paper log books is out and ELDs are in—meaning automatic and accurate recording of RODS and HOS information via synchronization of the ELD device with the vehicle's engine.
To that end, let's look at how ELD technology trumps paper log books and how the technology will benefit fleets.
Top Three Benefits for Fleets:
Improved Road Safety and HOS Compliance
Driver fatigue is one of the biggest causes of vehicle accidents. To help curb fatigue, the FMSCA has HOS rules and regulations in place that limit the number of hours a driver can drive per day.
With paper log books, HOS numbers can easily be falsified, and thus, drivers can knowingly or unknowingly drive more hours in a day than they are supposed to, exceeding their HOS limits, causing the drivers to become fatigued and increasing the probability of an accident. In fact, a study from the American Transportation Research Institute (ATRI) found that drivers with an HOS violation have a 45 percent increased chance of being involved in an accident.
ELDs, unlike paper log books, are tamper-resistant, and information cannot be altered. Information is recorded automatically for accurate reporting, and drivers are provided real-time HOS violation alerts. This is especially beneficial when you consider that HOS compliance is one of the biggest concerns for fleets and drivers and that ELDs can reduce HOS violations by as much as 50 percent, according to an FMCSA study.
Improved Driver Productivity and Efficiency

: With ELDs taking paperwork and drivers out of the recording equation, drivers can concentrate on what they do best and no longer worry about tracking their hours.
According to the FMCSA, drivers spend over 20 hours per year on paperwork, which breaks down to about 15 minutes per day. This may not seem like a lot, but over time, it adds up and can negatively affect productivity and distribution of workload, both of which are key to maximizing profit.
Lower Insurance Premiums

: ELDs provide information that improves driver safety, which can lead to lower Compliance, Safety & Accountability (CSA) scores and lower insurance premiums. For example, ELDs can monitor braking habits, speeding, idling (which can lower fuel costs) and risky driver behaviors so that problems are identified and corrected before they result in a costly accident, penalty, fine or drain to the bottom line.
Further, ELDs provide insurers additional data to study when considering risk models, which may reduce the overall impact that CSA scores have on the cost of a fleet's insurance premiums.
Going Forward
ELDs are the future of the industry, and you could arguably say that the future begins December 18. Even if you currently do not require ELDs for your fleet, they are worth exploring before full compliance goes into effect December 2019. A good place to start gathering information is your telematics provider. Many now offer ELD systems, along with their telematics solutions, and can work with you to find a solution that is cost effective and meets your needs.
The industry is forever changing. Those who are best prepared to embrace change will reap the greatest rewards.