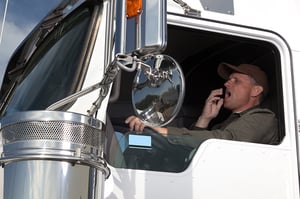 It's been just over two years since the FMCSA's (Federal Motor Carrier Safety Administration) ELD mandate went into effect in December of 2017. The mandate applies to the vast majority of commercial vehicles on the road, and the driving force behind it is improving road safety and minimizing road accidents by reducing driver fatigue.
Unlike paper logs, where it was possible for drivers to manipulate hours of service (HOS) numbers, ELDs are tamper resistant and don't allow original data collected by the device to be erased or altered. They digitally track driving time and monitor compliance with the rest-break rule — mandatory rest break after 8 hours of driving — and the restriction that allows drivers behind the wheel for 11 of 14 hours before taking a 10-hour break.
Since the ELD mandate took effect, data released by the FMCSA in June of 2018 shows that HOS violations, as a percentage of total inspections, were cut in half. Good news, right? Well yes, but also no, if you listen to what drivers have to say. With one of the main appeals of a truck driving career being the freedom and independence it affords, it's no surprise that there are drivers who are not exactly happy with the ELD mandate and its impact on their job and lifestyle.
Not All Change Is For the Better
The ELD mandate is supposed to make roads safer, but that's not necessarily the case according to drivers. Instead, they say it's helping create a hazardous situation, with drivers "more reckless than ever," racing to their destination to beat the clock before it runs out and they have to take a 30-minute mandatory break.
And, data from a recent study by Northeastern University and the University of Arkansas supports the drivers' claim. Researchers found that the ELD mandate may bring about the unintended consequence of making the roads less safe, citing an increase in unsafe driving behavior after the mandate went into effect, especially for small carriers and independent owner-operators.
Creating more reckless driving behaviors isn't the only effect the mandate is having on drivers. There's also a money issue — as in drivers making less of it. With the ELD mandate, drivers say they aren't able to drive as much as they used to. Drivers are paid by the mile, but usually don't spend a full 11 hours driving. For example, 6 unpaid hours may be spent at unloading sites, which cuts into the number of actual driving hours and amount of money earned.
With the mandate setting the cap at 14 hours of overall work per day, many drivers find that they can't squeeze in an extra 5 hours of driving after unloading their truck. So, they are driving fewer miles and earning less, which is causing some of the most experienced truck drivers to leave the industry and look for a more lucrative way to make a living. With the driver shortage always an industry concern, this is certainly not good news.
The break is yet another issue drivers have with the ELD mandate, which they say affects their safety. Since the mandate forces driver sleep schedules into a 10-hour break time, drivers are finding limited places to park, since nearly all drivers take their 10-hour break around the same time. Drivers have to park along interstate ramps and often end their workday sooner than normal to allow time to find a place to park. According to the American Transportation Research Institute, drivers spend an hour a day looking for a place to park, which puts a drain on productivity and is a poor use of drivers' time.
Using mental energy worrying about parking can cause driver fatigue, which can greatly affect driver performance and is a major reason for vehicle crashes. The irony here is that the ELD mandate is designed to reduce fatigue. Many in the industry attribute driver fatigue to a lack of accessible and safe parking, and truckers voted safe rest areas as their second greatest concern, following HOS rule changes, in a recent Top 10 challenges compiled by the American Transportation Research Institute.
Moving Forward
The controversy around the ELD mandate, not only from drivers, but also from owner-operators and industry executives, has shed some light on the fact that the current HOS regulations are outdated and don't give drivers the flexibility they need to do their job well.
The FMCSA has committed to fixing this issue and early this year is expected to release new guidelines around four specific HOS areas, including revising the current 30-minute break requirement.
Stay tuned.
Dive deeper into fleet management best practices with our new guide.