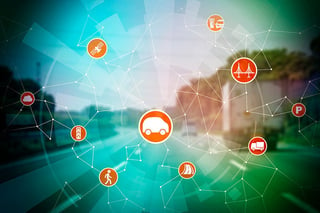 It's no secret that change is a constant in the fleet industry. To stay on top of challenges and to stay competitive, changes in the industry can't be ignored but need to be viewed with an open mind.
No longer can fleet managers afford to live by the mindset of "this is how it's always been done" and expect to thrive, as increasingly the industry is becoming more tech focused and data driven with telematics technologies leading the charge. Transparency Market Research predicts that the worldwide fleet management market will grow to almost $16 billion by 2025.
Telematics Trends Are Tools for Success
Reducing costs, increasing driver productivity, improving efficiency and improving safety have always been and will continue to be top priority for fleet managers. But what's new and what's on the road ahead are innovative telematics solutions that provide invaluable insights and data for running smarter fleets.
With the new year just around the corner, let's take a look at five key telematics trends that industry insiders say will dominate 2018.
Driver Focused—Look for telematics solutions to be more focused on drivers rather than just vehicle location and routing. With the ability to monitor driver behaviors as well as vehicle health and maintenance, telematics will continue to help fleets reduce collisions, minimize downtime and lower the number of traffic tickets and violations.


Ramped-Up Safety Training—Keeping drivers safe on the road is always a top priority. Looking ahead, telematics solutions will focus more on individualized training techniques to improve driver safety. By identifying and monitoring unsafe driving habits of each driver, training can be tailored to each driver's needs, improving the skills they need and giving fleets improved driver performance across the fleet.


Connectivity—Driverless cars are not going to take over our roadways tomorrow, but watch for the driverless vehicle race to gain traction with fleets possibly leading the way in adoption.

Telematics will play a key role in adoption success since it can provide fleet managers the ability to communicate with driverless vehicles and maintain fleet integrity and safety.

Additionally, as technology for semi-autonomous systems continues to improve, including adaptive cruise control, forward-collision avoidance and lane-keep assistance systems, look for telematics solutions to emerge that deliver new and innovative ways to ensure that all vehicles in a fleet are connected, protected and productive.


Data Integration and Mining—Telematics data integration keeps fleets running smoothly, by ensuring areas of fleet management are able to communicate with each other. With integrated systems, fleets save time and money, as data doesn't have to be manually pulled from each area and information doesn't need to be re-keyed. Integration helps ensure a more accurate picture of fleet performance by providing automatic reports and detailed analysis.

Data mining telematics solutions provide insight by examining large data sets or databases to look for trends and new information that can help fleets increase revenue and gain a bottom line boost. For example, data mining can improve routes, increase operational efficiency, help fleets know how much to sell a vehicle for and provide insight into whether drivers are following their stipulated routes or if they are taking longer breaks than allowed.


ELD Mandate—The Electronic Logging Device Mandate will have a huge impact on fleets nationwide, including creating a safer work environment for drivers and making tracking, managing and sharing records of duty status simpler and faster by automating the logging process. Look for telematics providers to increasingly integrate telematics with ELD, saving both managers and drivers time, while meeting compliance standards.

Looking to the future, there is little doubt that telematics will become more of a standard tool in fleet management and, with it, smarter, more connected fleets for a more efficient and profitable business. While there will always be evolving trends within telematics, telematics is certainly not a trend. It's time to get on board.