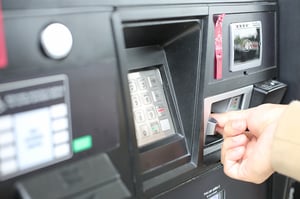 There's no question that using fuel cards can provide fleets numerous benefits that you can't get with traditional credit or debit cards. For starters, fuel cards are convenient for drivers to use. Most are accepted at nearly every gas station in the country.
Additionally, fuel cards can cut fuel expenses, reduce fraudulent charges, and provide accurate transactional records and reporting. In turn, it helps fleet managers track expenses, streamline administrative tasks, and control their fuel budget.
With all the positives that fuel cards can provide, if steps are not taken by both fleet managers and drivers to ensure fuel cards are secure, the positives can quickly go south and impact the bottom line. Fuel card security should be a top concern for any fleet manager. Fortunately, there are best practices that fleets can adopt to help with that.
Let's take a look at some that are key for both fleet managers and drivers.
For Fleet Managers:
1. Monitor, Monitor, Monitor — Monitor your fleet's fuel transactions carefully and consistently for any activity that is either suspicious or outside the limits you've set for your drivers, including frequency of fill-ups.
2. Stay on Top of Fuel IDs — Make sure your fuel provider has the most current customer-assigned fuel IDs on file, so you can monitor and report driver fuel card activity accurately.
3. Review Fuel Card Limits — With fuel prices always fluctuating, make sure fuel limits are set to the right levels. For example, there may be drivers who consistently spend below their set level. Lowering their limit is a good action to take to reduce the opportunity for fraud.
4. Limit Spare Cards — Having spare cards lying around can be an opportunity for fraud or misuse. Reducing the number of cards minimizes this risk. If you do have spare cards, make sure they are stored in a secure and, preferably, locked location.
5. Cancel Cards — If a driver is terminated or a fleet vehicle is sold, cancel the assigned card immediately.
6. Report Unauthorized Charges — Carefully examine and consistently monitor fuel transactions and report any unauthorized charges immediately to minimize your fleet's liability.
For Drivers:
1. Secure Card Storage — At all times, drivers should keep fuel cards in a secure location and never in the vehicle.
2. Keep Driver ID/Fuel PIN Confidential — Drivers should not share their ID/PIN with anyone and should never write their ID/PIN on their fuel card.
3. Choose Pump Wisely — It's best to use fuel pumps that are located closest to the gas station attendants. Criminals are less likely to install credit card skimmers on these pumps. Pumps out of the attendant's view are easier targets and more likely to be tampered with.
4. Check the Card Reader — The card reader at the pump should be firmly attached to the casing. Grab and wiggle it to see if it's loose, check that security stickers are not broken, and ensure that the reader looks the same as the other card readers. If there are no security stickers on the pump, it's best to fill up at another pump or station.
5. Look for Pinhole Cameras — Pinhole cameras are typically so small that they can be difficult to spot. Sometimes they are used with credit card skimmers to capture footage of customers entering their debit or credit card PIN. When making a transaction, use both hands — one for the transaction and the other to place above the credit card screen to shield the keypad from the view of the camera. Another option is to pay the attendant inside before fueling.
Since 2016, fuel card fraud has been on an upward trajectory. While it can't always be prevented — there is no fail-proof strategy — making these best practices a part of your company's fraud prevention strategy can lessen fuel card fraud's effect on your bottom line. It's all about being proactive and vigilant.
Think you know all the best practices for fleet cards? Take our quiz to test your knowledge.