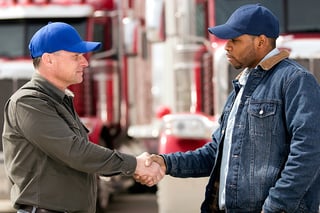 The concept of sharing items with friends, family or neighbors is certainly nothing new. People have shared the use of assets for centuries. But thanks to the Internet, technological advances and a growing trend that values access over ownership, the concept of sharing is turning into a profitable and flexible economic model—one that fleets can benefit from.
The Sharing Economy
A sharing economy is an economic model where individuals borrow or rent assets owned by someone else and most often occurs when the price of an asset is high and the asset is not fully utilized all the time.
Sharing economies allow individuals, groups or businesses—both B2B and B2C—to profit financially from underused assets, as physical assets are shared as services. For example, sub-leasing unused office space or renting out a condo for the months it is not being used.
While a sharing economy is far from the norm, it is gaining traction.
Judging by the impressive numbers that are listed below for Airbnb, a home-sharing service and Uber, which is turning the taxi industry on its head, it's only a matter of time before more businesses get on board and realize the benefits that a sharing economy model can have on the all important bottom line.
Airbnb averages 425,000 guests per night; close to 22% more than Hilton Worldwide
Uber as of February 2015 operated in over 250 cities worldwide and was valued at $41.2 billion—exceeding the market capitalization of Delta Air Lines, American Airlines and United Continental
So how can a sharing economy help your fleet? Here's how…
The Importance of Right-Sizing Your Fleet
One of the greatest challenges fleet mangers face is maximizing vehicle utilization with the right number of vehicles. Usually a fleet has assigned vehicles that are used on a consistent basis, and unassigned vehicles that are used randomly and often as spares.
The challenge for fleet managers is determining the right number of vehicles for their fleet. Too many vehicles and you have idle vehicles that are not on the road—meaning they're unproductive and probably losing money.
Too few vehicles and you have a fleet that can't respond to business opportunities—meaning that you're not losing money, but you sure aren't making what you could be.
To maximize profits, a lean fleet must run as few empty miles as possible. For example, on average a truck is loaded only 70 percent of the time, while 30 percent of the time, it is traveling between pickup and delivery points waiting to be loaded.
All of this traveling between points means lost productivity, wasted fuel, poor use of assets and more emissions polluting the air; making for not only a very expensive trip, but an environmentally unfriendly one as well.
The Sharing Economy + Technology= Less Empty Miles
With technology in the sharing economy picture, modernized freight networks are supported with real-time data and solutions and systems that increase connectivity which in turn help increase productivity.
These modernized freight networks include mobile-based freight brokering technologies that help cut costs by improving asset utilization, fuel efficiency and driver productivity. This technology benefits fleets as is it makes it easier to find trailers that are only partially full or are being moved anyway.
Just as Uber and Airbnb benefit from "sharing" technology, this "sharing" technology for the trucking industry helps fleets increase revenue by eliminating empty miles. It also helps eliminate driver frustration, fatigue and time spent in traffic.
Making Technology Work
The technology behind freight brokering can be complicated, but the process is fairly straightforward. Here's how it works:
Shipper enters their shipment into the mobile-based freight broker's network
The system identifies the best-fit fleet, driver or carrier within a logical distance
The fleet, driver or carrier accepts the load
The app automates the required back office documentation
The truck picks up the freight and makes the delivery
This mobile-based freight brokering process eliminates inefficiencies and also allows trucks with remaining capacity to pick up a second load, which increases productivity and revenue even more. The process also allows drivers to receive payment promptly, while a feedback mechanism allows customers to rate carriers—meaning continuous improvement of the system for greater customer satisfaction.
What's Next
The transportation ecosystem is evolving and with the sharing economy and technology, new opportunities are emerging daily. There is no time like the present to identify what "sharing" technologies may work for your fleet and consider how they can be applied.
The debate regarding how fast and to what extent the sharing economy will have on the transportation sector will no doubt be ongoing. But one thing is certain, the train has left the station and is quickly gaining speed.