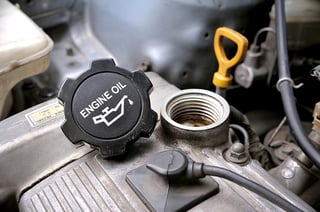 There are many areas fleet mangers and owners can focus on to maximize fuel efficiency. From improving driver behavior—to reducing engine idling and speed, ensuring proper tire pressure—to lowering vehicle weight, improving aerodynamics—to leveraging a telematics solution—all can help fleets save at the pump and positively impact the bottom line. And with estimates for fuel costs as high as 40 percent of a fleet's operating costs, a little fuel efficiency can go a very long way down the savings highway.
The Lowdown on Lower Viscosity Oils
Another key area fleet mangers and owners should consider including in their fuel efficiency strategy is engine oil, or more specifically, switching from heavier, mineral-based oils to lower viscosity oils.
According to a recent Confidence Report from the North American Council for Freight Efficiency (NACFE) and Carbon War Room, fleets that switch to lower viscosity engine oils can increase fuel savings by as much as 1.5 percent, with top end estimates from fleets and oil companies coming in even higher.
Additionally, the report revealed that 5W-30 and 10W-30 engine oils—both the current CJ-4 or the CK-4 (available December 2016)—can replace the 15W-40 oils that are used in many trucks and can increase fuel savings between .5 and 1.5 percent. The report also estimated that the FA-4 variant (available December 2016) of the PC-11 oils could increase fuel savings by another 0.4 to 0.7 percent on top of the CJ-4 or CK-4 oils.
While the fuel efficiency benefits of lower viscosity oils are one reason to consider switching engine oils, another is extended drains, which can help make up the 30 to 40 percent premium of lower viscosity oils. For example, one fleet that was included in the NACFE report that made the switch to lower viscosity oil extended its drain interval by 20,000 miles.
Careful Consideration is Critical
The NACFE report found that as far back as 2003 fleets have been ramping up their investment in lower-viscosity lubricants. The adoption rate however is another story, with even the most efficient fleets only recently exceeding 40 percent, and the industry as a whole at only about 20 percent.
There are a number of reasons for this not exactly impressive rate, since switching to lower viscosity oils is not without its challenges—including higher maintenance costs over the lifetime of the switch and compatibility issues with older engines. Lower viscosity advocates at a recent Chevron PC-11 panel discussion, however, claim the benefits will cover the extra costs.
Regardless, switching to a fuel-efficient lower viscosity oil is not something to rush into without doing your homework. To that end, let's look at some key considerations to take into account before deciding whether it's time for an oil change.
Talk with Your OEM—Any engine oil change needs to be endorsed by your OEM and if your engine is under warranty, you need to make sure you are not putting it in jeopardy. No one knows your engine better than your OEM and they have knowledge of their engines used in various environments and with a variety of oils.
Talk to Lubricant Manufacturers—The more you know, the easier it is to make a decision. Manufacturers can supply you with information and results from tests conducted on engine oils in a range of conditions and variety of engine types.
Understand Possible Problems—Changing viscosity grade can trigger a low-pressure warning, which could cause the engine to power down. Again, talk with your OEM. They'll know which engine types are likely to experience this issue and can help you with a solution.
Make a Plan—Having a transition plan is key and should be based on information from your OEM and lubricant providers. Test a few vehicles with lower viscosity oils. Make sure to select a group that is representative of how your vehicles are used, so you can better determine where the greatest benefits are and if there are areas where switching is a move that is beneficial to your bottom line.
Check Out Oil Specification—Ensure that oils meet industry specifications required by your OEM. Keep in mind that quality lower viscosity diesel engine oils meet the key API and OEM specifications.
Adding lower viscosity oils to your fuel efficiency strategy can lead to significant savings for your fleet. But don't just jump on board. The road to success is paved with proper planning and careful thought.