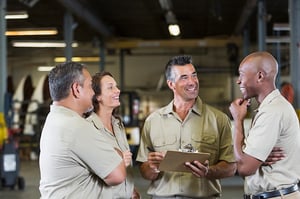 The driver shortage is a top challenge and concern among fleet managers, and, unfortunately, it's a situation with no real end in sight. In fact, it's growing year-over-year and increasingly shrinking the driver labor pool.
At the end of 2016, the shortage was 36,600 drivers, and by the end of 2017, it had grown to 51,000. By 2024, according to the American Trucking Associations (ATA), the number could rise as high as 174,000.
What these numbers mean for fleet managers is clear -- to stay competitive, retaining and recruiting the most qualified drivers is more important than ever before.
Mastering the Basics = Bottom Line Benefits
Drivers are a fleet's greatest asset and when they leave, replacing them is not cheap, with the average cost around $12,000 per driver.
Add on other possible costs related to a driver "moving on," including lost business from too few drivers to tackle business demands and a drop in productivity from low morale among current drivers, and you're looking at an impact on the bottom line that's headed in the wrong direction.
While there's no magic solution to ensure your most qualified drivers will stay on board for a long-term career, there is a weapon you can implement that can be very effective in combating the driver shortage — a driver incentive program.
When thoughtfully planned and executed, a driver incentive program can enhance driver retention and recruitment and the bottom line. It can help create a positive company culture where drivers feel engaged, respected and valued, and highly likely to stay on board longer to work toward fleet goals.
Every fleet is unique, but there are basic steps for building a successful driver incentive program that are applicable to every fleet. Let's take a look at those.
Lay a Strong Foundation
Just as a strong foundation does more for a house than hold it above ground, a driver incentive program built on a strong foundation can do more than enhance driver retention and recruitment. It can improve driver safety, reduce accidents and improve fuel economy, all of which positively impact the bottom line.
So, when building your program, keep in mind the following factors to get your incentive program off on solid footing:
Get key players on board, including those from top management, operations, safety and human resources.
Include drivers in the process by asking them what your program should include.
Establish clear objectives and goals.
Make your program simple to explain and simple to maintain.
Keep the lines of communication open for driver feedback, driver recognition and general information.
Make sure your drivers are informed about their standing in the program to keep up interest and spark friendly competition.
Choose Metrics and Targets Wisely
Measuring is essential for your program's success, and the key performance indicators (KPIs) you choose let your drivers know what's important in order to meet or exceed fleet goals. KPIs can measure a driver's performance, comparing how it stacks up to their previous performance. KPIs can also provide a performance comparison between different drivers.
Safety and efficiency are typically the top two areas that most fleets track. Driver behavior is the biggest category within safety, and top KPIs include speeding, harsh accelerating/braking, corner handling and crashes. For efficiency, the top KPIs are typically fuel economy per vehicle (including idling time), empty miles and fleet asset utilization.
For KPIs and targets to be effective, they should be actionable and measurable and tied to overall fleet goals. KPIs will differ from fleet to fleet, but the following considerations apply to fleets of all types and sizes:
Start with a small number of KPIs, so you don't overwhelm your drivers.
Be flexible and adapt KPIs and targets as your fleet goals change.
Focus KPIs and targets on safety, not speed.
Ensure your drivers understand their performance metrics and how their actions affect them.
Set targets that are objective and not impossible to achieve so your drivers stay motivated.
Reward Success
To keep drivers motivated, the frequency of rewards is important, as is the size of the reward and the type. As you'd probably guess, money is the most popular reward, but non-monetary rewards should also be considered. For example:
Catered lunches or cookouts for the best-performing or most-improved drivers.
Trophies or certificates for the safest driver of the month.
Public recognition at company events or through company-wide emails.
All of these are equally important in letting your best drivers know their hard work is appreciated — and, it also motivates those drivers who were not recognized to work harder.
As with KPIs, incentives and rewards should be carefully thought through to be effective and deliver the greatest ROI. To that end:
Clearly communicate the details of your rewards program to your drivers to get them engaged and excited and to encourage healthy competition.
Make the rewards frequent but not too frequent to properly manage. Keep in mind that infrequency can decrease motivation.
Quarterly and yearly bonus checks are always a good idea.
Reward progressively to maintain interest. For example, an email from the CEO the first month, company-wide recognition for continued performance the next month and a gift certificate the third month.