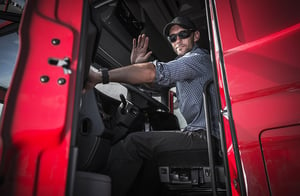 If you are a fleet manager, there is no question that driver shortage is a significant and ongoing concern. In fact, in its annual top industry issues report — 2017 — the American Transportation Research Institute (ATRI) found that, for the first time since 2006, driver shortage was the top-ranked issue, followed by ELDs and hours of service.
Even more concerning than just the sheer lack of drivers, is the lack of skilled and qualified drivers who are looking for a long-term career.
With that in mind, it is more important than ever to keep driver turnover to a minimum, while maximizing driver retention. Unfortunately, this is easier said than done.
As a fleet manager, you may be finding it harder and harder to retain top talent. Maintaining a qualified workforce is an expensive and time-consuming task. You are faced with recruiting and training new drivers, struggling with low morale among existing drivers, and dealing with lost business and unhappy customers from not having enough drivers to keep up with business demands.
The good news is it doesn't have to be this way. Taking active steps can help turn driver turnover around and keep intact what you've worked hard to build — a team of committed, engaged and productive drivers who are happy to be right where they are.
Let's look at three actionable steps for decreasing turnover and increasing retention.
1. Communicate with Respect
This may seem like a given, but treating drivers with respect can pay big dividends. Talking and interacting with drivers as colleagues, who share a common vision and mission, can go a long way in helping drivers feel engaged; that's the key impact of this step. The more engaged a driver is in his or her organization, the more likely they are to take pride in their work, aim to meet fleet goals, and stay with the organization.
No one wants to feel that they're underappreciated. Treat drivers like they're family. Let them know that they are essential to your organization's success. Show you care about them and not just about their job performance. Simple gestures such as saying thank you, calling them by name, getting to know their interests and families, and asking questions shows you care and in turn, they'll care about you and accomplishing the goals you've set for the fleet.
Additionally, listen. Allow drivers to speak openly and candidly. They want to be heard, not silenced. Actively listen to their challenges and concerns. Common complaints include not enough time at home, problems with maintenance and equipment, scheduling, unmet expectations, not enough pay, lack of good benefits and frustration with their supervisor.
Look at challenges from their perspective, and then grade your organization on how well you do or do not handle these challenges. If your grade is not "top of the class" and changes are necessary, take action sooner rather than later. In this case — actions speak louder than words.
2. Provide Incentives and Recognition
Not only can incentives help retain your drivers, they can help improve safety by rewarding safe driving practices. Monetary incentives are typically the most popular.
You can use incentive programs to recognize anything from years of experience, crash or incident free driving, boosting fuel mileage, or being the driver of the month.
No matter which program or method of incentives you choose to implement, remember, the goal should be to motivate your drivers to do their job as safely and efficiently as they can.
Incentive programs give your drivers something to work toward and strive for — which will make them more engaged in your organization and more productive on the road. It will also give them a sense of purpose and meaning, and an understanding that they are an important and recognized part of an organization's success.
3. Promote Safety and Health
Promoting safety and health shows you value your drivers' well-being and not just their job performance.
Make sure your drivers receive ongoing training and the proper equipment to handle the requirements of their job safely and successfully. For example:
Are vehicles properly maintained and maintenance requests handled efficiently?
Are drivers issued hands-free devices?
Are vehicles equipped with telematics devices to help drivers be more efficient, productive and safer behind the wheel? And, have drivers received training on these devices?
Are spare vehicles available should their vehicle be out of service?
Regarding driver health, while it may not be practical to have an onsite gym, what is practical is offering drivers discounted gym memberships and rewarding them with a free lunch or gift card for regularly going.
Onsite opportunities include free health screenings, chiropractic care, healthy snack options in the break room and healthy eating and weight loss programs that reward drivers who accomplish set goals.
Drivers are your greatest asset, and if you want to keep the most qualified ones on your team, you need to treat them like the asset they are. While pay is always important in keeping good drivers, it's not as important as the total work environment. Happy drivers mean a successful fleet. Keeping them happy means fine-tuning your management style and procedures
Questions or Comments? We'd love to talk to you. Feel free to contact us