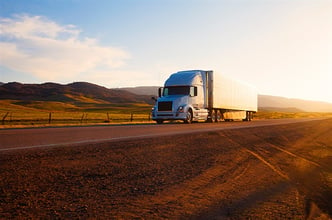 As the saying goes, there are two sides to every story. And when the story in question is diesel fuel trucks, that saying couldn't ring more true. Lately there's been a lot of diesel buzz in the air and what it's all about—when it's not about Volkswagen—is the impending decline of the diesel fuel truck—or not.
Industry experts are divided on the subject. On one side you have those who predict that diesel-powered trucks aren't going anywhere and will continue rocking and rolling down the highway as usual. On the other side, there are those who say that's a bunch of hogwash and diesel trucks are certainly going somewhere, but more like an endangered species and narrowing in number.
For purposes here, we'll be objective and take a look at both sides of the "diesel dominance" debate. There's no right and no wrong, just some facts from some industry experts to help you decide which side of the fence you may be inclined to sit on.
Diesel Fuel Truck Market Share Is Going to Go Away
In 2015, diesel engines dominated the North American Class 8 vehicle market, accounting for an impressive 98.5% of market share. "Enjoy it while it lasts," says a report by Americas Commercial Transportation (ACT) Research and Rhein Associates, since forecasters are expecting diesel dominance to narrow over the next five years. Natural gas technology, they say, will chip away at the market share of diesel fuel trucks as new environmental regulations take hold.
Those regulations, the final Phase 2 Greenhouse Gas Emissions Standards and Fuel Efficiency Standards for Medium and Heavy-Duty Engines and Vehicles, encourage the development and deployment of new and advanced cost-effective technologies to improve fuel efficiency and cut carbon pollution. The standards cover model years 2021-2017 for semi-trucks, large pickup trucks, vans and all buses and work trucks.
The report, The North American On-Highway Commercial Vehicle Engine Outlook, looked at historical trends, current activity and forecasts of engine demand in on-highway commercial vehicles. Additionally, the report analyzed trends in engine displacement, engine type, captive versus non-captive engines and premium versus non-premium power for Class 8 vehicles.
Says Ken Vieth, the senior partner and general manager of ACT, "While we don't expect a complete reversal by 2021, the industry is certainly going through a transition. Diesel dominates, but the shares will narrow, and non-captive engines are likely to decline, barring any unforeseen circumstances."
Diesel Fuel Truck Market Share Is Here to Stay
Diesel engines are the overwhelming choice of the commercial trucking industry—95% of all heavy-duty trucks (July 1016)—and according to Allen Schaeffer, executive director of the Diesel Technology Forum, they will remain the dominant player in the future of trucking.
Here are a few of the reasons why:
20% to 30% efficiency advantage over a gasoline engine; more freight and work can be done using a gallon of diesel fuel than other alternatives
Unmatched efficiency, power, reliability and durability
More fine particles are emitted from charbroiling a 1/3 hamburger than from driving a new diesel truck 140 miles
Diesel engines today are significantly cleaner and reduce emissions by as much as 98% from pre-1990 models
Schaeffer argues that the future of diesel started in 2000. That's when a complete transformation of diesel for on and off-road applications by the EPA and California Air reserves Board began, and with the goal of virtually eliminating emissions of nitrogen oxides and particulate matter from diesel engines by 2010. 97% was eliminated and thereby enabled the use of new and advanced emission controls on diesel engines.
According to Schaeffer, fleet managers and owners are embracing the clean diesel technology, with 4 million of 9.5 million heavy and medium-duty diesel trucks equipped with 2007 and newer clean diesel engines. This has helped reduce emissions from light, medium and heavy-duty commercial diesel trucks by 60% from 2000 to 2015.
Regarding new rules for medium and heavy-duty fuel efficiency requirements from the EPA, CARB and the National Highway Traffic Safety Administration that will be enacted later this year, Schaeffer sees that as an opportunity for even greater improvements in commercial truck efficiency, lower fuel consumption and reduced CO2 emissions.
Now you decide…..