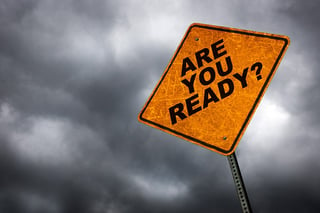 When a hurricane or disaster strikes, it can create multiple operational challenges. Confusion is rampant and the need to move quickly to contain the mayhem is "job-one," as both your business and reputation are at stake.
The best defense against disaster is a good offense. When it comes to your fleet operations, taking action and going on the offensive by developing a crisis communications plan should be a top priority.
Why do you need a crisis communications plan? What key elements should be included? For an overview of the basics to help you get started—specifically, audience and messaging—read on.

Work with Your Crisis Team to Know Your Audience
When a hurricane or disaster strikes, stakeholders immediately want information and answers. They specifically want information related to their needs and how to respond promptly, accurately, and confidently.
You probably have an existing crisis/disaster team in place, but if not, establish a team that represents the disciplines and stakeholders in your organization. Make sure your employees know who the team members are, their individual roles and how they can be reached.
Working as a team, the first step in developing your plan is identifying those audiences you need to reach. They can include:
Customers
SuppliersEmployees, Their Families and Victims
Management
Government Officials and Regulators
The Local Community
News Media
After determining your audience, the next step is determining their need for information. What are the necessary protocols, procedures and documentation for delivering information to each audience? For example, protocols for notifying suppliers or customers should be documented in your plan, as should procedures regarding when and how they are notified.
Contact information for each audience needs to be included and made easily available to authorized users at an emergency operations center or other pre-determined location.
Include as much information as possible—organization name, contact name, business/cell/fax numbers and email address—and make sure information is current by updating it on a regular basis. Keep information secure to protect confidential business information and have not only hard copies on hand, but also electronic lists that are hosted on a secure server.


Tailoring Your Message to Your Audience
Appointing a spokesperson for each audience is your team's next step. While it is perfectly fine to have one spokesperson, certain employees may be better suited for a particular audience. For example, a fleet manager may be best to communicate with drivers, suppliers and customers, while a representative from human resources may be better suited to field questions from office staff, the families of your employees or the local community.
Next up is Scripting Your Messages
Considering the chaos during and after a hurricane or other disaster, creating pre-scripted templates—with blanks to be filled in when needed—is a wise move. A risk assessment process by your crisis team will help identify possible scenarios that would require communications with various audiences such as:
Damage to fleet, property or other assets
Production or service interruptions
Injured employees
Messages should address the specific needs of each audience. If your operations are interrupted or your fleet is grounded, your customers may want to know if and when fuel will be delivered. Management may be more concerned with a timetable of when operations will return to normal. If there is extensive property damage, office staff and drivers may want to know when to report to work or may be concerned if their co-workers are safe.
Templates can be pre-approved by management and stored on a remotely accessible server for release when needed. Establish protocols to coordinate the release of information and make sure the core of each message is consistent while addressing questions from each audience, as your credibility and reputation are on the line.

Building Trust. Inspiring Loyalty.
One of the many important goals of a crisis communications plan is moving from reacting to a hurricane or other disaster to managing a strategy so that your organization can overcome the incident. It is everyone's goal to get back to business as usual as soon as possible and with your reputation in good standing.
As the saying goes, it takes 20 years to build your reputation and 5 minutes to destroy it. Protecting your reputation is as simple as clear and effective communication with your audience when disaster strikes. It shows you care and builds loyalty.
Tell it all. Tell it fast. And tell the truth.
A crisis communications plan will help you do just that and can mean the difference between keeping your customers and employees and losing them.
After building a crisis communication plan, learn the first steps to build a structured disaster plan with our disaster prep checklist.