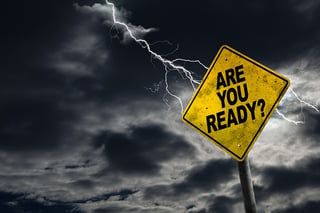 Spring is peak time for natural disasters such as tornadoes and hurricanes, which can quickly affect your fuel supply and cripple your work. A little preparation now can go a long way when that day comes.
There are two parts to keeping your fleet productive in crisis situations. It starts by having a reliable fuel program partner who understands emergencies. Once you have a reliable partner, work with them to ensure that your needs are met by planning in advance for worst case scenarios – scenarios we all hope will never happen.
Start Preparing for Emergencies by Finding a Reliable Emergency Fuel Provider
Ensuring that your fleet is fueled and running when disaster strikes should be the priority of your fuel provider. In fact, fuel providers should have a portfolio of emergency fuel plans and be willing to work with you to help devise a tailored plan.
For example, PS Energy offers three plans:
Dedicated Full Service Plan
Priority Service Plan
Call On Demand Service
These services give you options during an emergency and help your operations continue to run.
Here are some other key capabilities fuel providers should offer and things to look for:
Guaranteed fuel supply and a 24/7 response.
Expert drivers with the skillset and experience to maneuver difficult roads.
A secure and extensive national resource network so you get efficient, timely and cost-effective fueling.
Dedicated trucks or tank wagons with a range of fuel capacity, the necessary equipment to directly fill above ground and below ground tanks, vehicles and generators, and dual-pump systems that can dispense both gasoline and diesel.
Electronic tank monitoring so you can precisely manage inventory, including detecting leaks and spills, and schedule delivery as needed based on consumption and utilization.
GPS dispatch-delivery for easy communication with the providers' dispatchers and to check delivery status.
Get Your Fuel Provider and Your Team on the Same Page
Finding a reliable provider with emergency fueling experience, in disaster situations, is just the start. Now that you have the right one, take time today to walk through this checklist with your fuel provider and team. Everyone needs to understand what steps you will take in an emergency, so keep track of all responses and decisions for your written emergency plan.
Get to know your primary fuel provider. Ask about emergency fuel offerings, including pre-planning and fuel demand forecasting. Case studies on previous experience are a great resource. Be sure to talk with someone who's experienced.
Determine how long your fuel reserves will last. According to FEMA, 72 hours is the organization's average response time during emergency situations. Your emergency fuel supply should be able to last at least 72 hours.
Prioritize the areas of your organization that need fuel. That will make it easier during a crisis to know which vehicles should receive fuel first. If that priority fluctuates during the year, set a reminder to update your emergency plan each quarter. Your plan only works if it's relevant.
Review safety best practices. Ensure that your fuel storage is safe with watertight seal caps for both tanks and vehicles. This will help prevent water damage during flooding. Ask your fuel provider for other tips, and be open to new ideas that could save you a lot down the road.
Covering your bases with proactive preparation is key to coming out on top. That's why it's essential for an emergency or disaster plan to include fuel supply planning. We all hope to avoid or soften the effect of disasters, and that's what emergency planning with your fuel provider will help you accomplish. Even when crises arise, you will be prepared and have a plan of action.
Download our emergency checklist so you can develop and prepare your own disaster plan.