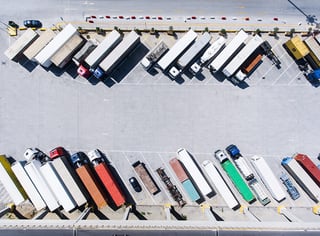 Compared to highway accidents, parking lot accidents involving fleet vehicles may not seem like a very big deal. In terms of serious injury or fatalities, they're not. But in terms of the cost of dents, dings, scrapes and driver downtime all adding up, well that's another story. The truth is that parking lot accidents can be a very big deal that can decrease profitability.
Accidents in parking lots are responsible for a significant amount of a fleet's overall annual operating costs. They often end up costing more than a serious highway accident in that if the insurance deductible isn't met, the cost to cover an accident is out of pocket and straight out of profit.
An Accident Waiting to Happen
With constant activity and movement coming from all directions, including vehicles and pedestrians, maneuvering vehicles in a parking lot can be just as nerve-wracking as driving on a crowded interstate, regardless of the experience level of the driver.
Let's take a look at these statistics:
According to the Insurance Institute for Highway Safety, 14 percent of all vehicle collisions that result in damage occur in parking lots. Breaking that down to fleets, the 2017 Fleet Accident Survey found that:
11 percent of accidents that cause fleet vehicle damage occur when a fleet vehicle is parked
10 percent of accidents that cause fleet vehicle damage occur while parking or backing out of a parking space
Clearly, parking lot accidents are all too common. But there's good news. Technology exists to help fleets reduce parking lot accidents, and there are safety tips to keep drivers in control.
Let's look at some of those.
Technologies:
Rear-view/Backup Cameras make it easier for drivers to safely back out of parking spaces and have had a significant impact on reducing parking lot accidents. Look for that impact to continue as the National Highway Traffic Safety Administration has mandated that by 2018 all new vehicles must be equipped with some type of rear-view camera.
While this is encouraging news, it's important to stress to drivers not to rely solely on camera technology as the "be-all and end-all" to preventing parking lot accidents. When in doubt and to be on the safe side before backing up, encourage drivers to get out of the vehicle and take a closer look and make sure the flashers/hazards are engaged before backing up.
Telematics, with its data collecting capabilities, is another helpful technology fleets can leverage to cut down on the number of parking lot accidents. A telematics solution can provide fleet managers real-time alerts and rich data on driver performance, allowing them to address and correct any driver behaviors that could contribute to an accident.
Safety Tips for Drivers:
Be Observant, Cautious and Alert. When entering a structure, slow down, keep your eyes up, stay focused ahead and take your time. When backing out, use idling speed and conduct a 360-degree check to look for pedestrians, obstacles and for other vehicles backing out at the same time.
Watch for vehicles speeding through aisles and cutting across the parking lot. Use turn signals and if possible, avoid two-way lanes. Be on the lookout for taillights and reverse lights and know that a right turn is always preferable to a left. Plan your exit route before putting the vehicle in drive, as most accidents happen on the way out.
Protect Vehicles from scratches and dents by avoiding parking in congested areas. Park away from the building during the day and avoid secluded areas at night. Always lock vehicles and keep valuables out of sight. If possible, park in front of a light pole for added security and to protect the vehicle's front end from a driver who might pull too far forward.
Do not park in an end space. This makes a vehicle vulnerable to turning traffic. Never move the vehicle with cargo doors open, and be on the lookout for low-hanging signage.
Side-View and Rear-View Mirrors need to be checked to ensure they are properly adjusted and then checked frequently. Before touching the accelerator, double-check for blind spots—the few seconds it takes to ensure all is well can mean more productivity in the long run.
Be Respectful of other drivers by not parking over lines and taking up two parking spaces. You are the professional driver, so act accordingly and represent your fleet well.
Low speeds may not seem dangerous, but the damage and downtime needed for repairs is enough to impact your bottom line. Instilling these safety tips into your fleet drivers and using technology to help prevent parking lot accidents will go a long way. Don't let a few bumps and scratches affect your profitability.