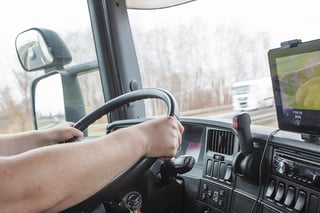 Managing a utility fleet is no easy task. Costs are constantly fluctuating, customer expectations are through the roof and Mother Nature is forever hanging around trying to make your job and that of your drivers even more of a challenge.
Gaining control over your fleet operations is key to easing many of your managerial "headaches" and can also be key to profitability and your bottom line.
One solution to help you gain more control, and one that is considered by many in the industry to be an invaluable technology for fleets is telematics—specifically a fleet-wide telematics system.
Ask around and fleet managers will tell you that implementing a telematics system for their fleet was one of the best business decisions they ever made. Ask others and they may tell you they did their homework and found that the benefits did not justify the costs or that it was just not for them.
So who are you to believe?
Telematics Benefits
Telematics is a "mash-up" of the words telecommunications and informatics. In terms of your fleet it means sending, receiving and storing information about a vehicle through a combination of a GPS and an electronic GPM (Global System for Mobile Communications) device that's installed in the vehicle and communicates with the user and web-based software.
A telematics system provides up-to-date information such as location data and vehicle status, including vehicle startup and shut down, idling status and speed. Knowing this information can help you:
Increase productivity
Ensure compliance
Reduce labor costs
Realize fuel savings
Improve customer satisfaction
Reduce operating expenses
Lessen unauthorized vehicle use
Improve driver safety
But Is Telematics for You?
While the benefits of a telematics system can help boost a fleet's bottom line, deciding if one would be beneficial to your fleet's bottom line and provide value to your operations is another question entirely.
Just as you would not buy a vehicle or sign a contract with a fuel provider without doing some considerable legwork, deciding whether to implement a telematics system is no exception.
Identifying your business challenges, setting criteria and testing a few systems to see what works for your fleet is the best way to make an informed decision and one that you can justify to your management team and/or your drivers—no matter which direction you go.
Criteria and Communication
With your business challenges identified, the next step is doing research, including talking to management and other key stakeholders to determine the system features needed to meet your business challenges.
There are many telematics providers in the marketplace and many system options, so it's important when speaking with a potential provider to share with them all the information you have gathered.
For example, it may appear that a particular system may not have a feature you require. By addressing that with a potential provider, you may find that their system can be customized to your specifications.
Also, know that you are getting what you pay for. Selecting a system just because it's the least expensive could mean you are meeting only a few of your challenges—if any—which could prove both a waste of your time and dollars.
Utility Fleets and Telematics Providers
When speaking with potential providers, it is especially important for utility fleets to choose a telematics provider that is on the job 24/7/365 since technical support issues can occur when your fleet is on the road—meaning at all hours.
Equally important is a provider that has exceptional customer support and account management. If they don't offer training on the system for you, your drivers and back office or don't have the capabilities for video conferencing or meeting with you in person, you won't be getting the greatest ROI—so scratch them off your list and move along.
Taking Telematics For a Test Drive
With business challenges identified and criteria established, it's time for the rubber to meet the road, so you can get the facts and information to support whether or not a telematics system is right for your fleet.
Does a potential telematics system meet your business challenges? Does it help generate revenue? The only way to know is to test a system to see if the software and the service are inline with your business objectives.
Although a system may meet your challenges, keep in mind it is also important for it to be:
Easy to use and navigate
Customer-Centric
Reliable and perform as promised by the provider
Testing various telematics systems is the best way to gather the information and data you need to determine both ROI and the bottom line benefits down the road. It can provide answers to help you whittle down the potential provider pool, give you the confidence that you have conducted your research thoroughly, and provide assurance that you have made the best decision possible.