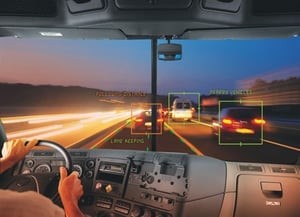 Enhancing safety, improving productivity, and reducing costs are at the top of the responsibility list for most fleet managers. These are responsibilities that are far from simple, but ones that a bulletproof risk management plan can help fleet managers tackle more effectively.

Here's how:
Proactively Managing Risk = Making Improvements
A risk management plan identifies problem areas that could make a fleet unsafe and non-compliant. It also specifies the tools, policies, and practices needed to improve those areas. Having a risk management plan is essential to operations and helps:

Ensure the safety of employees and the general public
Reduce the number of fines for non-compliance with local, state, and federal regulations
Lower the number of accidents and associated legal fees

Risk management plans vary according to fleet needs, purpose, and the company's overall goals. There's no one-plan-fits-all, but there are common risk management practices, policies, and strategies that apply to most fleets, regardless of size or application.

Whether you're developing a risk management plan from scratch or revising your current one, adopting those practices and strategies is crucial for developing a solid plan - one that enhances safety both on and off the road, increases productivity, improves fleet performance, and lowers costs.

Let's look at some of the key common practices and strategies to help you bulletproof your risk management plan.

1. Prioritize Operational Areas: To be compliant, the following areas should be given the highest priority:

Drivers: Conduct a Motor Vehicle Report (MVR) for any applicant/employee before they get behind the wheel of a company vehicle. Continue to periodically check the MVRs of existing employees to ensure they have maintained a safe driving record. Ensure drivers are properly trained and retrained on the class of vehicle they operate and provide required additional training as needed. Drivers should have a clean bill of health and be fully aware of — and ideally signed-off on — your company's safety policy.
Vehicles: Keep up with preventative maintenance scheduling and regular inspections, vehicle documentation, and inspection records. Also, make sure that your vehicles are outfitted with the proper safety equipment.
Management

:

Fleet vehicles, drivers, and operations should be managed based on established rules and regulations that clearly state responsibilities, tasks, and processes. Incident management should also be addressed and should spell out what to do if an accident occurs, including what information to collect and how to handle claims if an incident should cause injury, property damage, or the loss of vehicle assets.
Operations: Routes should be planned to determine those that are the safest and most efficient. Drivers need to be aware of their work schedules, which should ensure adequate work coverage, allow for breaks, and comply with federal, state, and local laws. Variables, such as extreme weather conditions that could affect operational delays, should be considered and addressed under a disaster or crisis management plan.

2. Determine the Right Technology: Leveraging the right technology can simplify the risk management process and make the path to meeting your goals less complicated. GPS tracking can identify vehicle location and activity, which can ensure compliance with routing and scheduling, while enhancing driver safety. For greater insight into operational factors, a more comprehensive telematics solution can provide data collecting and monitoring capabilities, including driver behavior, vehicle maintenance, fuel consumption, and routing.

3. Risk Assessment: A common sense approach, rather than a technical and time-consuming one, can prove the most effective and should include:

All work activities that could cause harm or injury, both on-road and off-road
An evaluation of your safeguards and whether they sufficiently prevent harm or injury
A regular review of risk assessment findings and an established process for implementing necessary changes
A knowledgeable person to oversee and manage all risk assessment and compliance processes

And One Last Thing …
For your risk management plan to be effective, you need full executive support. Getting senior leadership on board is key. Educate them on the importance of your plan and the benefits it can provide to your company's goals and strategies for success. Without the support of your executive team, even the most bulletproof risk management plan is vulnerable.