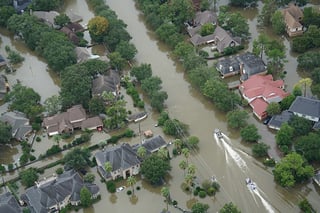 To put the destructive power of nature in perspective, look no further than the damage estimates from Hurricanes Harvey, Irma and Maria—between $65 billion and $190 billion for Harvey, between $50 billion and $100 billion for Irma and between $45 billion and $95 billion for Maria.
Most of the recovery expenses will go toward property damage, but a good bit of those expenses—at least in the case of Harvey and Irma—will also go toward vehicle replacement.
According to Jonathan Smoke, Chief Economist for Cox Automotive, as many as one million vehicles will need to be replaced because of damage caused by Hurricanes Harvey and Irma. If you break those numbers down specifically for fleet vehicles like Enterprise and Hertz, the estimates are:
Between 12,000 and 21,500 fleet vehicles in Texas will need to be replaced from damage caused by Hurricane Harvey.
Up to 11,000 fleet vehicles in Florida will need to be replaced because of damage from Hurricane Irma.
While we don't have a report yet for fleets in Puerto Rico, the country has faced many challenges, including fuel shortages and recruiting truck drivers to travel to Puerto Rico to help distribute relief supplies. Only 20 percent of Puerto Rico's truck drivers have reported back to work since Hurricane Maria swept across the country, making it next to impossible for relief workers to distribute supplies.
Hurricane Lessons: Learning from the Past to Prepare for the Future
The Atlantic hurricane season runs from June to November with the peak period from early August through the end of October, so there are only a few weeks left until everyone can breathe a collective sigh of relief.
In the meantime, it's never too late to learn lessons from Harvey, Irma and Maria so that the next time disaster strikes, your fleet is better protected. To that end, let's look at some steps you can take to help achieve that goal.
Have disaster plans, policies and support systems in place and communicate procedures and expectations, including emergency procedures and expectations for working during weather events.
Share employee contact information and establish several methods of communication, such as Facebook or group text messaging.
Study historical climate data and updated Federal Emergency Management Agency (FEMA) maps to know of areas that are prone to flooding.
Keep in mind your physical location and evacuation routes, and make sure if you're relocating vehicles that drivers know where to take them and arrange for transportation to shuttle drivers after vehicle drop-off, if necessary.
If you buy bulk fuel, mobile fueling or have an emergency fueling plan, contact your provider to go over delivery and plan specifics.
Fuel up vehicles before parking.
Don't drive through moving water; as little as 12 inches of water can wash a vehicle away and water will ruin your engine.
If possible, park vehicles in a protected area, such as a parking garage.
If you are parking vehicles outside, it's best to park them against a building and face them in the anticipated direction of the wind to improve airflow over the vehicle.
Park vehicles as close to each other as possible to protect the interior vehicles from flying debris.
Remove contents from vehicles, particularly any objects that may become projectiles, such as ladders or buckets.
Clear the area of trash cans, signs, tools and other objects that can't be bolted down.
Looking Ahead
As Texas, Florida and Puerto Rico recover from hurricanes, other areas of the country are preparing for what's just around the corner—ice storms, blizzards and winter flooding—and the steps above are just as applicable for these winter weather events.
While we can never know for sure what's next, we can be prepared by planning ahead and having a disaster strategy in place. With nature, anything is possible.
Our disaster preparation checklist can help make sure you don't miss any details.
Download your checklist today.