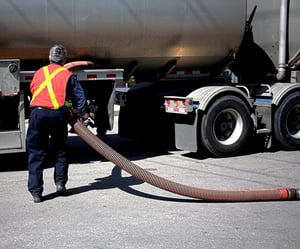 If you want freedom from the liability issues that can be associated with fuel storage and dispensing, your fleet vehicles and equipment fueled and ready to go at the start of the workday, and your drivers focused on their job rather than spending time fueling their vehicles at a card-lock or retail fuel station, then wet hose fueling is a method that's definitely worth exploring.
Wet hose fueling, which is also known as mobile fueling and direct fueling, has been around for decades and was initially used by the construction industry to fuel equipment. Today, companies across a wide range of industries use wet hose fueling as a safe and cost-effective fueling method and, in doing so, reap the many bottom line benefits that a wet hose fueling program can provide.
Who Can Benefit from Wet Hose Fueling and How Does It Work?
While wet hose fueling is not beneficial for every company, most would benefit from using wet hose fueling services at either some or all of their facilities. If your fleet does not return to your facility at the end of the day, wet hose fueling might not make logistical sense. If your fleet is comprised of only a few vehicles, wet hose fueling might not make economical sense. That's because fuel providers depend on route density to increase their profitability, and since wet hose fueling is very labor intensive, the cost of the services may outweigh your ROI.
With those two exceptions, the economics of wet hose fueling make sense for the majority of companies. There's no spillage, no driver error, no lost receipts, no chance of fraud and no driver downtime. Plus, it's a safe, fast and streamlined high-tech process — with wet hose services from reputable providers backed by reliable and secure technologies and software, including those for inventory management, fuel authentication, billing, data warehousing and geofencing.
Here's how it works:
A fleet fueling specialist from your fuel provider arrives at your specified location, at your specified time and scans each vehicle's barcode with a handheld device to confirm the product to be dispensed and to get the odometer reading.
The specialist fuels the vehicle and the handheld device reads the fuel truck's meter.
The process continues for each vehicle.
When all vehicles are fueled, the fuel specialist emails a detailed report to the designated parties at your company.
So, What Are the Benefits?
There are primarily three methods for fueling fleet vehicles and equipment — excluding cash and conventional credit cards — bulk fuel, fuel cards and wet hosing. Let's look at some of the benefits wet hosing can provide your company compared to bulk fuel and fuel cards.
Reduced labor costs — When drivers take the time to fuel their vehicles, they are taking time away from profit-generating activities, with the average time a driver spends traveling to and from the pump being approximately a half hour. With wet hose services provided overnight or when vehicles and equipment are not in use, assets are job ready at the beginning of each shift and downtime is reduced.
Reduced maintenance costs — Driving vehicles fewer miles — by eliminating drivers from the fueling process — extends vehicle life and means less repairs, fewer tire replacements and less need for fluids. Plus, with fueling specialists on the job, you're assured of the correct product application and your vehicles and equipment performing optimally.
Improved safety — Environmental and safety regulations are increasingly becoming more stringent with regard to where and how much fuel can be stored. Wet hose fueling eliminates the need for costly on-site tank storage, and since specialists dispense the fuel, the number and severity of spills is greatly reduced.
Ease of reporting and accounting — With a reputable wet hosing service provider, you get detailed reports that show how much fuel and what product type was delivered to each vehicle or piece of equipment each day. This makes your quarterly fuel tax reporting and fuel accounting less burdensome and helps you gain better control over your fuel budget.
Reduced fuel theft — Using bulk tanks on your property increases the risk of fuel theft. Think about how much easier it is to steal 300 gallons from a tank than the same amount from individual vehicles and pieces of equipment. Also, with drivers completely out of the fueling process and the entire process managed by your fuel provider, the chance of fuel fraud is zero.
When considering the benefits of wet hose fueling compared to bulk or fuel cards, you should also take the time to answer a few questions, including:
If an employee spills fuel, who is responsible for the clean-up?
If your fuel tank becomes contaminated, who is responsible for the expense?
How much do you spend replacing equipment that is associated with a fuel tank?
How much additional production time would be gained if your drivers did not have to worry about fueling their vehicles?
With wet hose fueling benefits considered and questions answered, your next move is talking with your fuel provider to help you determine if wet hose fueling would be cost-effective and beneficial for your company.
To learn about the most beneficial fueling method options for your fleet, download our guide today.