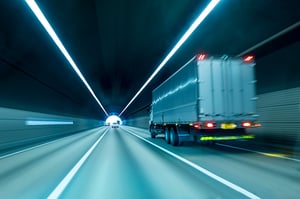 In the transportation industry, fuel economy is often the top focus. This is especially true for trucking companies that want to minimize costs. And, with good reason. According to the American Trucking Associations (ATA), fuel is typically the second-highest cost for trucking companies, slightly behind driver pay.
With diesel prices rising and an overwhelming increase in the demand for trucking, fleets must find ways to reduce expenses in other areas besides fuel spend if they want to remain competitive. In doing so, fleets can cut costs from their operating budget and boost their bottom line.
Let's take a closer look.
Adopting More Technology and Best Practices Means More MPG
Adopting various technologies and best practices that optimize fleets and improve fuel efficiency is essential for minimizing costs. Findings from the 2018 Annual Fleet Study Report from the North American Council for Freight Efficiency (NACFE) support this.
The report studied 20 major North American fleets — specifically, Class 8 tractors and trailers operating in regional and long-haul applications. The primary findings of the report showed that North American fleets are increasing their rate of adoption of commercially available technologies and best practices. As a result, they're enjoying improved fuel economy.
According to the report, the participating fleets achieved an average fuel economy of 7.28 mpg in 2017, compared to the national fleet average of 5.91 mpg. This number represents an approximate 2% increase in mpg over 2016 and a $600 million savings — or $8,864 savings per truck — in fuel costs over what fleets would have spent achieving the national average.
The participating fleets utilized a variety of commercially available technologies and best practices, 85 separate ones in total. Adoption of at least some of those grew from just 17% in 2003 to 44% in 2017.
To help you tap into those benefits, let's look at 7 of those key technologies/best practices — the ones that are easy to adopt and can make a positive impact on fuel economy and the bottom line for your fleet.
1. Adopt Aerodynamic Attachments: Investing in devices and attachments that reduce aerodynamic drag and improve airflow can produce significant fuel savings. There are four areas on a tractor-trailer that create the most drag:
The front of the trailer
The gap between the tractor and the trailer
The under-body of the trailer
The back of the trailer
Narrowing the gap between the tractor and the trailer with gap fairings, installing side skirts, and adding a "boat-tail" behind the trailer can increase fuel efficiency by as much as 14% or more.
2. Choose Low-Rolling Resistance Tires and Check Tire Pressure: Tires that roll easier need less power to get a truck moving and are critical in order for a fleet to get higher mpg. To gain a fuel efficiency advantage, however, tires must be properly inflated at all times. Consequently, keeping close tabs on tire pressure is key.
3. Optimize Cruise Control and Vehicle Speed: Fleets should maximize the parameter settings for cruise control to gain the greatest fuel savings. While a slower speed burns less fuel, there are times when a faster speed can mean more revenue. To that end, the conditions dictate whether it makes more sense economically to drive faster and burn more fuel.
4. Keep Equipment Well Maintained: Technologies employed on tractors and trailers work optimally when trucks are well maintained. To achieve better mpg, it's critical to keep up with maintenance schedules and utilize technology to help the equipment run as intended.
5. Implement the Right Axle Configuration: To boost fuel economy, fleets should use the correct axle configuration for the job. The correct axel configuration will depend on the payload, speed, maneuverability, and such fleet practices as tire management.
6. Use Tools that Reduce Idle Time: Drivers should shut their truck off whenever and wherever safely possible. They should use technology and engine parameter settings to reduce idle time. Not only does excessive idling burn huge amounts of fuel, but it increases engine maintenance costs and decreases engine life.
7. Educate and Incent Drivers: Hiring, educating, and incentivizing drivers for the best fuel efficiency possible is critical to successful fuel management. The higher skilled the driver, the better the vehicle's mpg. According to the ATAs Technology and Maintenance Council, a vehicle's mpg can be as high as 35% for drivers with the highest skill, compared to those with less skill.
Want to dive deeper into the factors that impact your fuel efficiency? Download our white paper to learn more.