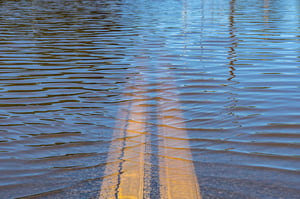 The death and devastation in 2018 from Atlantic Hurricanes Florence and Michael was so severe that their names were permanently retired from the World Meteorological Organization's list of storm names.
Florence, which made landfall in September on the North Carolina coast, brought catastrophic flooding to the Carolinas and Virginia. It caused over 50 deaths and an estimated $30-60 billion in damage. Michael, which came ashore along the Florida panhandle in October, was one of the strongest storms ever to make landfall in the contiguous U.S., causing at least 45 deaths and an estimated $30 billion in damage.
According to Atlantic hurricane experts from AccuWeather, of those people and businesses impacted by Florence and Michael, those lacking a disaster plan had greater difficulty in dealing with the storm – both as it occurred and during the recovery. With the 2019 Atlantic hurricane season officially underway as of June 1 and concluding November 30 (with mid-August through mid-October typically the most active and dangerous period), a key takeaway from 2018 is the importance of having a well-thought-out disaster plan. It should be a plan that covers the time periods immediately before, during and following the disaster. Such a plan is essential for protecting your employees, your operations, and your reputation with customers and the general public.
2019 Forecast: A Repeat of 2018?
The Climate Prediction Center of the National Oceanic and Atmospheric Administration (NOAA) predicts a near-normal Atlantic season this year, with nine to fifteen named storms (winds of 39 mph or higher) likely. Of these, four to eight could become hurricanes (winds of 75 mph or higher), including two to four major hurricanes (Category 3, 4 or 5, with winds of 111 mph or higher). NOAA provides these ranges with 70 percent confidence, and if they are correct, the 2019 Atlantic hurricane season could shape up to be very similar to that of 2018.
But, four hurricanes or eight, major or not, what's important to keep in mind is a common phrase used by meteorologists — "It only takes one." That means, no matter how active or inactive a hurricane season is predicted to be, you should be equally prepared every season. It only takes one hurricane coming ashore to cause immense destruction from which you may never fully recover. To ensure your disaster plan is rock-solid and your company and fleet are protected, you should know the answer to each of the following questions.
When You Know You are in a Storm's Path, Be Proactive
What is the progress of the storm?
Do any essential assets need restocking?
Do tanks, vehicles, or equipment need to be topped off or refueled?
Is your fuel storage safe and protected from flooding or water damage with watertight seal caps?
Are backup generators and emergency equipment in working order and do you have ample supply?
Are vehicles road-ready?
Do you have a plan for keeping vehicles safe and secure?
Have you mapped out emergency routes for drivers?
Are your employees trained in basic first-aid?
Have you reviewed the disaster plans of your suppliers to ensure they can provide service?
Have Arrangements in Place for Fuel
Have you discussed an emergency fuel plan with your current provider or with a provider who specializes in emergency fueling?
Do you have an emergency fuel supply that can last at least 72 hours — which, according to FEMA, is their average response time during emergencies?
Have you created a priority list for receiving emergency fuel so that your most essential vehicles are back on the job faster?
Keep the Lines of Communication Clear and Open
Do your drivers and other employees have a clear understanding of their role in an emergency?
Have you established employee response schedules and instructions for 24/7 operations?
Do you have an updated list of key contacts, including fuel providers, insurance providers, emergency management agencies, and key personnel?
If normal communications channels are inoperable, do you have backup information, such as cell phone numbers, for your contacts?
Is your disaster plan clear, concise, understandable, and adaptable?
Have you tested your plan to see what works and what needs tweaking?
Have you asked employees for feedback on your plan?
Numerous resources are available to help you plan for disaster, including FEMA, Ready.gov, and SBA.gov. Once you've created a disaster plan, don't let it gather dust. Keep it updated, regularly drill all employees on procedures, analyze areas that need improvement, and implement changes.
The most active and dangerous period for hurricane season is right around the corner. Will you be ready?
Here's how to be sure that you're preventing mistakes from occurring in your fleet operation by reviewing the top 10 fleet management mistakes and how to avoid them.