There's no doubt that managing a fleet is a complex undertaking — one that requires a broad range of skills and experience to keep the numerous areas of operation running efficiently and with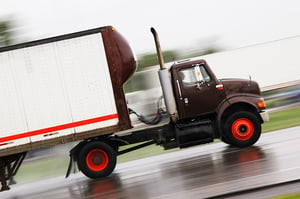 in budget.
But the fact is, as highly skilled and experienced as the most successful fleet managers are, one thing that's hard to tackle is predicting exactly what liability issues might crop up — making such predictions is next to impossible.
However, reducing liability exposure with winning strategies and solutions that improve the areas most affected by common liability issue is very possible to achieve.
Being held liable in a claim is no picnic. It can negatively impact a company's reputation, affect how a fleet is managed and operated, and can mean the difference between operating profitably or operating in the red.
To that end, let's look at some key areas where you can make improvements and in doing so, help reduce your liability exposure.
Smarter Hiring and Safety
Managing driver risk and reducing both accidents and potential liability exposure down the road means making background checks on potential drivers part of the hiring process.
Some drivers may present more of a liability than you are willing to take on, so check their history, including, reckless driving, speeding violations, accidents, and drug or alcohol abuse.
Creating a comprehensive driver safety policy and enforcing it to the letter is essential. A solid policy should address how drivers are trained and also how driver behavior is monitored — the biggest risk factor for liability — and one where a telematics solution and ELDs can be extremely helpful.
Both online and behind-the-wheel training should be covered in the safety policy as well as the consequences to the driver of not meeting the standards that are spelled out in the policy.
Additionally, protect yourself by checking your drivers' safety records annually to make sure they haven't failed to tell you about a violation or accident. If something turns up, make it clear in your safety policy the consequences for such an action.
Keeping Your Fleet Road-Worthy
Vehicles that are not maintained properly or are unsafe can really expose a fleet to liability. Having a thorough and regular maintenance program in place is key in helping ensure that your drivers will be safe when they get behind the wheel.
A telematics solution can help by automating the tracking of maintenance schedules, which not only helps ensure vehicle safety, but also decreases labor expenses, reduces repair and replacement costs, and prolongs vehicle life.
Additionally, telematics can alert you should a vehicle be operating out of parameters so that problems are addressed before they become an accident and a possible liability claim.
Getting the Best Insurance Coverage
Insurance can't make exposure to liability go away, but it sure can help minimize liability costs. To ensure you get the best coverage that your budget will allow, take into consideration, the size of your fleet, the unique needs of your fleet and various risk factors.
When meeting with potential providers — and it's always a good idea to meet with several — ask exactly how their coverage can accommodate your needs. Keep in mind that coverage needs can vary, but liability coverage is always a must.
Staying on Top of Compliance
Government rules and regulations are always changing. Keeping up with them and ensuring compliance is no easy task, but to reduce risk and limit exposure to liability it's a necessary one.
Although it may not always seem like it, rules, regulations and industry standards exist for a reason and often that reason is to improve safety and prevent problems that could be potentially dangerous.
ELDs can help in one area of compliance: Hours of Service (HOS), which limit the number of hours a driver can drive per day. Driver fatigue is one of the biggest causes of vehicle accidents. ELDs are tamper resistant for accurate reporting and can reduce HOS violations by as much as 50%. Reducing violations lowers the chances of an accident and lowers liability exposure.
If you're interested in learning more about how a telematics solution can lower your exposure to liability, we look forward to hearing from you.