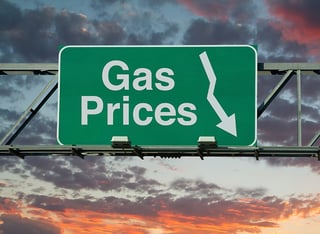 Repeating its lackluster performance of Q3, the energy sector was the worst performing sector of Q4 with a composite of energy commodities falling just above 15%. Prices were affected by supply and demand. An excess supply and decreasing demand in Q4 crude oil, oil products and natural gas prices spiraled downward to over a 25% drop by year-end 2015. This represented more than a 50% price drop over the past two years.

Crude Oil

The most volatile commodity for the last two years, crude oil continued its downward slide from Q3 with NYMEX light sweet crude falling 17.85% in Q4 with increasing supplies a concern. Reaching a new yearly low on December 21st of $33.98 per barrel, just above the December 2008 low of $32.48. NYMEX light sweet crude closed on December 31st at $37.04 per barrel, near the yearly lows, while increasing global supplies remained a concern.

Domestic crude oil production in Q4 remained close to where it was in Q3 at around nine million barrels per day. Rig counts continued their fall in Q4 with counts at 536 on December 31st 2015 compared to 1,482 on December 31st 2014. Moving forward, falling rig counts could send crude oil production below the nine million barrel mark.

Internationally, Russian production remained constant at over ten million barrels a day and total OPEC production exceeded 31.5 million barrels a day. While crude oil production in the United States could fall, Russian production should remain at current levels.

Brent crude fell 22.86% in Q4 and was down close to 35% in 2015. Trading in a range from $34 to $70.56 per barrel over 2015, it closed near its lows at $37.28 per barrel on December 31st.

Oil Products

Usually rallying in the spring and summer, RBOB gasoline took an entirely different path in Q4 and rallied from the worst performing commodity of Q3 to the best performing of Q4 with only a 7% decrease in price.

Trading at some of the lowest prices in recent years, gasoline was down 13.66% in 2015. It traded in a range of $1.1690 to $2.1857 per gallon for the year, closing on December 31st at $1.2710 per gallon wholesale.

Fuel is showing strength at year-end relative to crude oil prices, low inventories, low prices and warmer winter temperatures, which led to more cars on the road and an overall increase in driving time, were contributing factors to the stronger finish.

Natural Gas

In Q4, natural gas prices were all over the chart, making Q4 their most volatile of 2015. The volatility was caused in part by decreasing residential and commercial demand due to warmer winter temperatures. Prices were also affected by strong production from major shale plays and shrinking demand that failed to keep pace. In addition to the Q3 fall of nearly 11%, natural gas prices fell an additional 7.41% in Q4 and were down 19.11 % overall for 2015.

Way below the nearly $13.50 peak per mmbtu in 2008, on December 18th the active month NYMEX natural gas futures hit their lowest levels since the late 1990s, dropping to $1.6840 per mmbtu. Recovering from this December low, natural gas prices then went on a tear, bouncing higher and rallying to $2.3860 on December 29th, an increase of over 41% in only seven trading sessions. Closing out Q4, active month February NYMEX natural gas futures closed at $2.3370 per mmbtu on December 31st.

Ethanol

A biofuel and product of corn, ethanol prices are affected by activity in corn prices and in Q4 corn prices shredded nearly 7.5% and close to 9.6% for 2015. As corn prices moved lower, so did the price of ethanol, falling 8.79% in Q4 and trading in a range of $1.2920 to $1.6750 per gallon over 2015. Chicago ethanol futures closed on December 31st at $1.40 per gallon and for the year, ethanol was lower by 13.95%.