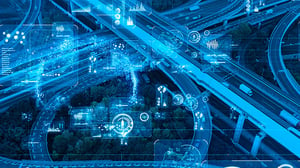 As 2019 comes to a close, let's take a look at how autonomous vehicles will transform the transportation industry, and the benefits they will provide your fleet. Plus, a look at the U.S. and global trends to keep on eye on that can affect fuel prices in 2020.
Autonomous Vehicles
While autonomous vehicles (AVs) have been on the radar for a while, they are increasingly becoming a reality. By one estimate, there will be 10 million AVs on U.S. roads by 2020 and as many as 21 million by 2030.
Today, most AVs are classified as level two. Level two means they're equipped with semi-autonomous technology/features, like adaptive cruise control, lane centering, steering, and brake/acceleration support. Even when these are activated, the human at the wheel must be driving while always supervising the features.
As the scale climbs to level five AVs, humans are not part of the driving equation. And the vehicle — if commercial — can function as a mobile office. Level five AVs are not expected to be on U.S. roads for another decade. But considering the speed that technology moves, expect increased levels of automation to escalate over the upcoming years.
There are numerous discussions throughout the fleet industry on concerns and unknowns regarding AVs. While these discussions are necessary, the benefits that autonomous technology will provide fleets must not be overlooked. These include:
Increased Safety: According to the National Highway Traffic Safety Administration (NHTSA), 94% of accidents are caused by human error. Autonomous technology removes human error from the equation, providing faster reaction times and reducing distracted driving. Both of these capabilities can cut accident costs considerably and possibly lower insurance premiums.
Less Congestion: Accidents slow traffic, which can lead to rubbernecking and more accidents. Because of fewer accidents with AVs, there are fewer reasons for slowed traffic. A recent study by The U.S. Energy Information Administration (EIA) on the potential energy consumption impacts of connected and automated vehicles, found that AVs could reduce road congestion by 25% — and that's good news for fuel costs.
Real-time Route Optimization: Vehicle-to-vehicle (V2V) and vehicle-to-infrastructure (V21) are technologies that allow vehicles to exchange safety and mobility information with each other and surrounding infrastructure. With these capabilities, vehicles can receive information about road conditions while en-route and shift the route accordingly. They can even autonomously coordinate behavior with other vehicles and infrastructure. This not only means fuel and time savings, but also better service to customers.
Greater Productivity: With higher levels of AVs functioning more like an office, time can be devoted to making calls and catching up on paperwork. Additionally, fleet vehicles can travel for longer time periods because a driver is not in control of the vehicle and subject to drowsiness.
Fuel Prices
Looking ahead, fuel prices will be dependent upon on-going and emerging trends. The EIA forecasts that in 2020, the annual average retail price of gasoline will be $2.62, and the average price of diesel $3.04.
Trends to keep on eye on going forward to protect your budget and profit margin include:
U.S.-Iran Tensions: Continuing tensions between the United States and Iran could result in Iran shutting down the Strait of Hormuz. It's where 20% of the world's oil passes daily. A shutdown could upend the fuel markets and send prices temporarily above $100/bbl.
OPEC Production Cuts: In July 2019, OPEC nations agreed to continue their production cuts until early 2020, in what analysts say is an effort to continue propping up oil prices while demand is weakening. There could come a point when OPEC decides it can't cut any further, affecting their ability to maintain market balance.
U.S. Oil Production: The United States is the world's fastest-growing crude oil producer. In 2020, production is expected to surpass 13 million barrels per day. With so much supply, OPEC and other key producing groups must deal with absorbing the increased supply when global demand is weak.
U.S.-China Trade War: The trade war between the United States and China has had major repercussions for the global economy. Institutions including the World Bank and International Monetary Fund (IMF), consider trade to be a leading threat to global growth in 2020, which directly affects oil demand and prices.
IMO 2020: Beginning January 1, the International Marine Organization (IMO) will enforce a limit on the percentage of sulfur content contained in all marine fuels. All maritime vessels must switch from burning 3.5% sulfur fuel to burning 0.5%. This is expected to heavily tax the global refinery network and force suppliers to blend in more distillates — including diesel — to meet specifications. For the United States, this will increase the pressure to export diesel fuels, meaning less will be available domestically. In turn, diesel prices may increase in early 2020.