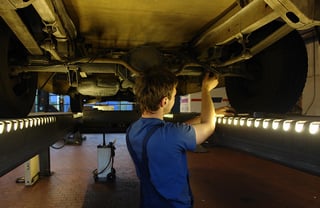 While there's some debate among fleet managers regarding the most efficient and cost-effective solution to handle vehicle maintenance and repair work— in-house, outsourced or a hybrid of the two — there's absolutely no debate that routine maintenance and timely repairs are crucial to operational safety, productivity and customer satisfaction.
Just as with choosing a telematics solution or the right vehicles for your fleet, there's no one-size-fits-all maintenance solution. In-house may be the most beneficial for some fleets, while outsourcing may be best for others. Or, maybe a bit of both is the most efficient and cost-effective.
The needs of every fleet are different, so what's important is choosing the solution that gives you the most uptime at the lowest cost.
For purposes here, we'll take a closer look at in-house maintenance; specifically, three key factors you should consider to get the best return:
Bay space
Technicians and training
Tools, parts and equipment
Bay Space
Too few bays can mean more downtime and less productivity. So, the first step to take is determining if the number of bays you currently have can tackle the average number of jobs you need completed per day or week.
Should you decide that more bays are necessary, there are additional decisions you'll need to make, based on the amount of space you have, the size of your budget and the impact that adding bays could have on downtime. For example, should you:
Take advantage of unused floor space to add bays?
Reconfigure your current space?
Expand your existing shop with new construction?
Outsource the work overflow and stick with the bays you have?
Technicians and Training
Keeping maintenance and repairs in-house means you'll need to have, in place, the right mix of properly trained technicians with the necessary skill sets to cover your maintenance needs. If not, you'll see uptime become downtime very quickly.
To that end, you'll need to access the types of repair and maintenance services your vehicles require — which, of course, can cover a lot of ground — and build a top-notch team that can handle those requirements efficiently. With the technician shortage the industry is currently experiencing, this may be easier said than done, and this is where training comes in.
Making regular training a part of your in-house maintenance budget is money well spent. It means your team will be more knowledgeable about the latest tools, technologies and techniques, and better prepared to handle whatever is thrown their way. Plus, they'll be challenged and more likely to stay on the job — saving you from the many time-consuming tasks associated with hiring new technicians and the downtime risks of losing a valuable team member.
Regarding training, look for local schools that offer continuing education classes, dealers with training options and national professional training associations.
Tools, Parts and Equipment
Having a well-stocked maintenance shop with parts, supplies, tools and equipment (such as lifts, frame machines and diagnostic machines), as well as a system in place for knowing they're always on-hand, is crucial to an effective in-house maintenance solution.
You'll need to take stock of what you have and fill in the gaps, so your technicians will be armed with what they need to complete jobs quickly and competently. Also, you'll need to have an inventory system in place that tracks inventory and keeps you ahead of the curve by ensuring your technicians have the needed parts on-site, rather than having to order them and then wait for a shipment to arrive.