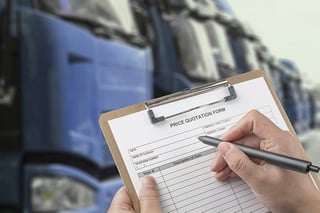 With tightening budgets and rising costs, making the right financial moves is more crucial than ever to a fleet's bottom line. While fuel costs for the most part have decreased — at least for now — the costs associated with most other fleet categories have been steadily rising, and as a result, have put additional pressure on the day-to-day responsibilities of fleet managers.
According to a recent survey of fleet managers by Automotive Fleet, one area in particular that has raised the pressure meter is the rising cost of vehicle acquisition. With an uptick in the price of vehicles — due primarily to an increase in standard equipment related to government safety and fuel economy initiatives — higher costs mean higher TCO and running costs per mile, which can erode profitability.
Strategies to Lower Vehicle Acquisition Costs
There's no doubt that owning vehicles can provide a fleet with valuable assets and other financial advantages, including tax benefits and pricing leverage, but there can also be disadvantages, such as administrative headaches, increased maintenance costs and more upfront costs that can affect cash flow.
With profitability and budgets constantly under a microscope and fleet acquisition a big part of the budget, fleet managers have turned to cost reduction strategies to help lower the high cost of vehicle acquisition, including negotiating factory-paid dealer delivery fees, volume discounts and price based on "triple-net" cost.
Another acquisition strategy that some fleet managers are finding to be economical and efficient is vehicle leasing. But just as with personal car leasing, leasing fleet vehicles is not a one-size-fits-all financing option for every fleet. And it's definitely not something to jump on board with without a careful examination of various factors, including financial considerations, operational goals, vehicle configurations, seasonal factors and routes.
Benefits of Leasing Over Owning
Just as each fleet is unique in its decision to lease or to own vehicles, there are however, a number of basic advantages that leasing can bring to the table.
Let's take a look at some of the key ones you may want to talk over with a fleet management provider to better determine if leasing would be beneficial to you.
Leasing vehicles requires a smaller down payment than owning vehicles, giving you more cash on hand to respond more easily to business opportunities and improve your market position without dipping into credit lines. Additionally, monthly premiums are typically lower than premiums for financing vehicles, which preserves more capital each month that can be put to use in other areas.
Leases can typically be tailored to your fleet's needs, but generally, there are two types:
An open-ended lease gives you the most flexibility and usually has a short minimum term, such as one year. At the end of the lease term, the vehicle can be purchased, sold or leased month-to-month. The advantage of this arrangement is it allows you to upgrade your fleet as your budget allows.
Closed-end leases are more expensive month-to-month and are for a fixed term and fixed monthly rate, but give you protection against unexpected financial costs. Unless there is excessive mileage, wear and tear or vehicle damage, you simply turn in the vehicle at the end of the lease and you have no further obligation. Closed-end leases often include maintenance and/or insurance.
Outsourcing Routine Administration
When you own vehicles, there are administrative tasks such as tag and license renewal, title retention and payment of personal property taxes that take up a lot of time. With leasing, the responsibility for these tasks is with the leasing company, which allows your staff to focus on core capabilities.
Improved Corporate Image and Safety
Leasing vehicles means you are able to keep your drivers in the latest model vehicles and eliminates the risk of vehicles looking in poor condition. You also benefit from having vehicles that are equipped with the latest navigation technologies and safety features, which can help drive revenue by improving route efficiency and communication.
Leasing outsources vehicle maintenance to your fleet management partner and often, costs are included in the lease at predictable fixed costs. Additionally, vehicles are newer and therefore, have fewer maintenance issues.
With a reputable provider, you get additional fleet management tools that can help boost productivity and improve efficiencies. When talking with a management company, ask what services they provide—specifically, fuel expenditure records, mileage and location tracking, maintenance reminders, insurance claims assistance and repair.
Leasing and owning vehicles does not have to be one or the other. How you best serve your customers is what matters most and many fleets find that both leasing and buying vehicles is the best option to providing superior service. Talking with a reputable provider is how to best navigate the leasing/buying maze and achieve your organizational goals.