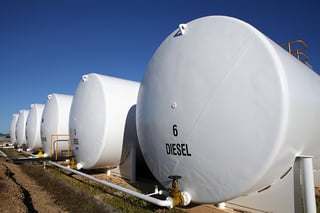 Buying fuel in bulk isn't always the most cost-effective option.
For emergency, first responder and utility fleets in particular, bulk fuel may be the best solution. In fact, it is an operational necessity. For some fleets, bulk fuel may actually cost more in the long run.
Other options like retail fuel cards or mobile fuel are important to consider, which is why we recommend working with a fuel provider to determine the best option for your fleet operations.
If you are considering bulk fuel, here's what you need to know.
Fuel Contracts and Considerations Before You Sign on the Dotted Line
The oil markets are one of the most volatile market sectors. Having a contract or plan protects you from market volatility—spikes and dips—as you and your provider have agreed on a set price. As prices fluctuate day to day, your price remains the same, which makes managing your fuel budget an easier and more simplified process, while also guaranteeing you the fuel supply you need.
As you work on the contract with your fuel provider, there are a few best practices to keep in mind.
This is where you start. To determine the fuel needed and delivery schedule, consider the number of vehicles in your fleet, the number of tanks you have on-site, fuel type, how much fuel you currently use and the consistency of your fuel usage.

The key is to not exceed this set amount of fuel to avoid costly fees, which could wipe out the entire savings from buying in bulk.
Price is obviously important, and negotiating the best market price is a top objective. Be patient as you go, and make sure you're well prepared.
You accomplish this is by doing your homework. Study market research on sites like Platts, OPIS and Argus. It's best to not rely on just one source, so make sure your research is thorough.
Location matters and can have an impact on price. Research will again be your best friend. Find out where your provider is getting their fuel from and use that to help you negotiate price.
Negotiating a bulk fuel contract can be a big step forward for your fleet. But don't forget to do the research and find a quality fuel provider that will make sure you're heading in the right direction.
Not all needs are the same, and our best advice is to get customized recommendations. You've got enough on your plate already – don't fool around with fuel. Find a fuel provider that meets your needs.