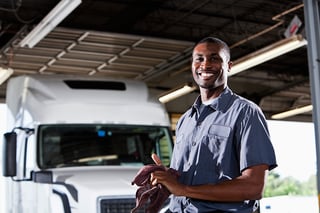 Managing a utility fleet can present unique challenges. For example, unlike many commercial fleets, utility fleets have a wide range of complex and highly specialized vehicles and equipment that are critical to the job at hand. Think of over-the-road and off-road vehicles, including utility trucks, bucket trucks, derrick diggers, cranes and boom trucks, forestry trucks and chip dump trucks—to name a few—and you have an idea of the variety of vehicle types that make up the utility fleet market.
And while it is true that keeping drivers safe is a challenge for all types of fleets, what makes this particular challenge unique for utility fleets is that "drivers" are not only responsible for well…driving, but are also responsible for maneuvering specialty equipment such as cherry pickers, cable reels and cranes in areas that are often dangerous, hazardous and congested.
Additionally, utility fleet assets—workforce, vehicles and equipment—tend to be more geographically dispersed than those for other fleet types, which adds a layer of logistical difficulties to managing safety and security concerns.
Without a doubt, all fleet managers face their own unique challenges regardless of the type of fleet—so many in fact, that most would probably say that there are not enough hours in the day to overcome all their challenges. For purposes here however, we'll keep the focus on utility fleet managers and take a look at a few more of the challenges that they face.
Improve Visibility, Ensure Compliance, Control Costs
With assets often spread across a wide geographical area, keeping everything on track can be a herculean challenge and logistical nightmare. That is why utility fleet managers are increasingly turning to telematics solutions to help better manage assets, improve operational efficiencies, control fuel costs, and ensure safety and OSHA compliance.
Typically, with a large number of workforce, vehicles and equipment to account for and manage, a telematics solution—GPS or AVL—can provide utility fleet managers real-time visibility and retrievable data on each asset, including driver behavior, what each vehicle/equipment has done, where it is located or where it has been, and what the utility is. Telematics can also improve dispatch and response times to help increase productivity and drive profitability and can be configured to meet fleet-specific requirements.
To get a better idea of the power of telematics over asset management, take a look at the solutions that PS Energy offers.
Outsourcing Maintenance Management
With the large number of often varying vehicles and equipment, keeping everything in proper working order can be a costly and time-consuming expense for utility fleet managers. Entrusting vehicle and equipment upkeep to a company that specializes in fleet maintenance not only lowers costs, it simplifies the process and allows fleet managers to focus on their core competencies and thereby, better serve their client base.
Outsourcing maintenance can lower costs and improve operational efficiencies in several ways. It reduces the number of staff needed to maintain vehicles, it helps procure the best price for parts and it eliminates the responsibility, expense and space of stocking parts and products. Plus, outsourcing addresses the challenge affecting many utility fleets today—the growing technician shortage and the aging of the in-house maintenance facility workforce.
Rising Interest Rates
Although it may seem like it is never going to happen, one day the Federal Reserve will raise interest rates and it could be as early as this November or December. If so—rather when so—it means a great deal for utility fleets.
Not that a quarter point rate hike will force fleet managers to run for the hills, but with interest rates climbing, leasing or purchasing new vehicles or equipment becomes more expensive. For a fleet with a substantial number of vehicles and equipment—which utility fleets often have—costs can quickly escalate.
If leased vehicles and equipment need to be replaced, fleet managers should take advantage and do it now while rates are low. Additionally, extending leases by a couple of years for those assets will lock-in low-interest contractual rates and help lower costs.
The Federal Reserve can't be controlled. But what can be controlled is getting ahead of the curve and conducting a fleet audit or utilization analysis to access vehicle and equipment needs—eliminating unnecessary assets and optimizing the use of others. Conducted carefully, the savings can be substantial, while still providing the high service levels that customers demand, no matter what the FED does.