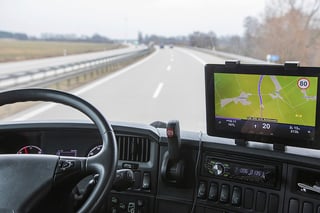 In today's competitive and complex business environment, keeping ahead of the game is becoming more and more challenging. Whether your fleet is large or small, costs are constantly fluctuating and customer expectations are higher than ever, making managing your fleet operations not exactly a walk in the park.
The good news is that getting ahead and staying ahead doesn't need to be so challenging. In fact, challenges can be overcome and even turned into opportunities with the right tools in place, especially if those tools include a GPS-based fleet tracking system.
The Bottom Line Benefits of GPS
A GPS tracking system helps you exercise control over your fleet operations, while protecting your workforce, assets and bottom line. The benefits are invaluable, which is why getting on board with GPS could prove to be one of the wisest business decisions of your career. Here are some of the key reasons why:
Improve Driver Safety and Security: Receive live reports from vehicles and monitor activity such as aggressive driving and speeding. Plus, if drivers need assistance, you can quickly determine the vehicle's exact location and send help immediately.
Lower Fuel Costs: Track fuel consumption and gain visibility into areas that need improvement with vehicle speed and idling time monitoring. Also, streamline routes for less driving and less fuel used.
Improve Customer Service: Respond to customer needs faster and more accurately with improved routing and dispatching. Not only will this increase customer satisfaction, it will make more efficient use of your drivers' time and help increase productivity.
Manage Vehicle Maintenance: Keep vehicles properly maintained and costs more manageable with alerts based on time, mileage and engine hours. Regular maintenance also helps extend vehicle life and helps increase fuel efficiency.
Theft Recovery: Identify where a stolen vehicle is located in an instant with alerts and mapping data. The quicker the vehicle is found, the less the chance of vehicle damage and the lower your insurance premiums. Plus, with no damage, the vehicle is on the road—working—and not at the body shop—sitting.
Getting Your Drivers on Board
To ease the transition to GPS tracking, you should first get your most valuable asset on board—your drivers. Resistance to new working tools or methods is a given in the workplace and with GPS tacking, drivers may feel that you do not trust them or you are spying on them. Here are a few suggestions to help soothe pushback and make it a "win-win" for everyone:
Communicate with Drivers: Talk with drivers beforehand so implementation is not a surprise. Be upfront and tell them what you are trying to accomplish with GPS tracking, how it is going to help you achieve that and how the system works. Set up meetings so drivers can ask questions, share their thoughts and be involved in the process.
Approach from Drivers' Perspective: Present GPS tracking as an opportunity for drivers to increase their safety and better their driving habits and skills. With the burdens of paperwork greatly reduced, stress how GPS can improve their overall workday.
Make it Rewarding: Create competitions and games such as "Best Driver for the Week" and award bonuses, free lunches or prizes to the winners.
Choosing the Right GPS Tracking System for Your Fleet
While there are many companies that offer GPS tracking solutions and a wide range of options to choose from, deciding what is best for your fleet does not have to be a complicated process. Focus on:
The type of vehicle and driver information you want to track
The number of vehicles you need to track
The amount you want to spend in upfront costs and monthly fees
To give you a clearer idea of some of the capabilities and benefits of GPS fleet tracking, listed below are some of those for PS Energy's web-based, etracAVL and etracTS.
Know that one size does not fit all when it comes to GPS tracking, but one thing that does fit all are reduced costs and operational efficiencies. Pick a long-term partner that offers the best solution for your business challenges and one that will deliver the best ROI.
etracAVL(Automated Vehicle Location)
Reduce costs and staff locations
Identify non-performing staff
24/7 vehicle location
Manage fuel tax reporting, mileage data and vehicle security
Reduce theft and lower insurance premiums
Automated report summaries for a single vehicle or an entire fleet
Conduct historical route analysis
etracTS (Telematics Solution)
Reduce fuel consumption
Reduce greenhouse gas emissions
Monitor how fuel is used and where it is bought
Track engine idling for possible tax rebates
Improve vehicle maintenance
Monitor battery health to reduce jumpstarts and road calls
Improve driver safety