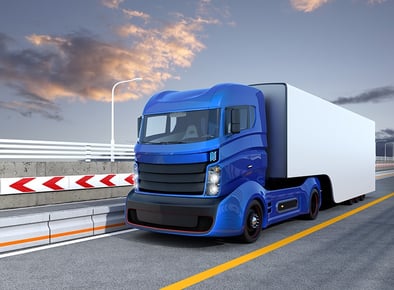 With our roadways becoming more and more congested, getting stuck in traffic jams in urban areas is, unfortunately, becoming the norm. Not only is it frustrating and a time drain—even worse—it's bad for your health, as it has been found to contribute to heart disease, cancer and respiratory ailments.
Yes, breathing tail pipe exhaust is definitely not what the doctor ordered, and the worst offenders out there, as you might guess, are heavy-duty trucks that can burn over 100,000 gallons of diesel fuel per year.
Heavy-duty trucks are highly inefficient. In fact, the Environmental Protection Agency (EPA) calculates that heavy-duty and medium vehicles account for nearly one-fifth of greenhouse gas emissions and oil use in the transportation sector, but account for just five percent of vehicles on the road.
With a growing trend towards urbanization—the United Nations predicts a global population of nine billion by 2050—with 70 percent city dwellers—better air quality is a key concern in cities worldwide.
So, with the announcement in June by Nikola Motor Company of the "Nikola One," a "near-zero-emission" heavy-duty electric truck scheduled to debut in December 2016, as well as Daimler Trucks presenting the fully electric Mercedes-Benz Urban eTruck in Stuttgart, Germany (although not heavy-duty) this past week, fleet owners and managers are paying attention and—pardon the pun—electrified by the possibilities.
Earth Friendly. Powerful. Economical.
As of June 13th, the Nikola One had $10 million in pre-orders, representing $2.3 billion or 7,000 vehicles. With those impressive numbers, one could assume that many fleet owners and managers are looking at electric heavy-duty trucks as more the wave of the future rather than a passing fad. And, with the benefits Nikola Motor Company (Nikola) promises the Nikola One will deliver—including rendering the 20,000-pound diesel truck obsolete and costing approximately half to fuel per mile compared to diesel—it's no wonder there is enthusiasm.
The Nikola One has a 2,000 hp, 6x6 all-wheel electric powertrain that gets topped off by a natural gas powered turbine, creating a vehicle that Nikola claims can deliver fuel economy two to three times better than diesel, runs the electric motors for 1,200 miles after filling up, and can travel 100 electric miles with a full battery (320 kWh battery pack) with no help from the turbine. It accelerates faster, weighs 2,000 to 3,000 pounds less than the competition and, with the capability to haul close to 2,000 pounds more than a diesel truck, each load is more profitable.
Also impressive are the creature comforts and features of its carbon fiber cab, including two full-size beds, a full-size refrigerator/freezer, a 40-inch television, LTE connectivity and a 15-inch touch screen. And, since there's no traditional engine, the Nikola One offers 30 percent more cabin space and a forward driving position with panoramic views for added safety.
Natural Gas Stations
While fleet managers may not be thrilled with the idea of managing routes based on locations of natural gas stations, Nikola says it will build its own stations using raw materials from company wells, and presently has 55 CNG stations planned.
Just like Tesla, Nikola will be supplying the power to get fleets moving as soon as the Nikola One hits the market in 2020, with stations strategically placed off highways to accommodate long driving schedules and to ensure that drivers are no more than 400 miles from a station.
Looking Ahead
The upfront cost of the Nikola One—purchase price of $375,000 or a lease price of $5,000 per month for seven years—is nearly double that of a diesel-semi, but with lower operating costs, more profitable loads and up to 1,000,000 miles of free fuel to Nikola's first customers, the decision making process seems an easy one.
But, without a Nikola One prototype, it is understandable that fleet owners and managers may be a bit skeptical to totally embrace the Nikola One. And, of course, between now and 2020, there's always the possibility of a few bumps in the road affecting roll-out, including funding issues, a slower drop in battery prices, problems with CNG stations and pull-backs in the free fuel incentive. For fleet owners and managers, battery prices would have to drop significantly for them to embrace electric vehicles in volume, but with the promise of free fuel, getting on board early could prove practical.
With government emissions regulations getting stricter every day and heavy-duty trucks getting the "heave-ho" for government work, plug-in and electric vehicle use will no doubt see a boost. If the Nikola One delivers as promised, the future of electric heavy-duty trucks in fleets could transform the industry, help clean up the air by decreasing the number of diesel guzzling rigs on our roadways, and provide significant cost savings to fleet operators.
Stay tuned. Time will tell….