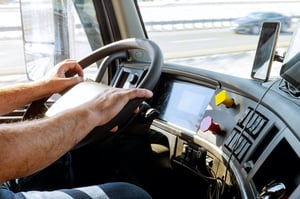 As a precaution to keep COVID-19 from spreading, companies nationwide are increasingly requiring employees to work from home and banning or limiting travel.

But, for one of the largest groups of U.S. workers — truckers — those precautions don't apply. That's because, in some way, shape, or form, every business and household depend on them.
Rather than limiting truckers' travel, the Transportation Department's Federal Motor Carrier Safety Administration (FMCSA) announced, on March 13th, that they were suspending the rules that limit daily hours for carriers -- specifically, those that are:
Providing direct assistance to relief efforts tied to the coronavirus pandemic, including carriers of medical supplies and equipment necessary to test, diagnose, and treat COVID-19
Hauling goods such as masks, gloves, hand sanitizer, and disinfectants
Transporting food for emergency restocking of stores
Moving medical and emergency services providers, people needed to set up and manage temporary housing and quarantine facilities, and people being moved for medical, isolation, or quarantine purposes
The FMCSA's national emergency declaration limits most commercial truck drivers to 11 hours of driving time in a 14-hour workday. It's the first time that the FMCSA has issued nationwide relief for hours of service (HOS) regulations.
For Truckers, No Work Flexibility Means COVID-19 Vulnerability
According to the Bureau of Labor Statistics, approximately 1.8 million Americans are truck drivers. That's a job that can require nationwide travel, plus contact with goods shipped from overseas.
Without the flexibility to work remotely or by having their travel banned or limited, many drivers are concerned about COVID-19 transmission -- transmission that can happen when going in and out of different facilities and truck stops for fuel, food, and showers.
While it's true that drivers aren't near other individuals for most of the day, drivers are still dependent on truck stop workers to ensure shower booths are clean and employees are practicing diligent hygiene.
To that end, truck stop chains are taking protective measures to minimize the potential risks of COVID-19 while maintaining their daily operations. These include:
Reinforcing proper cleaning procedures and sanitation methods
Placing hand sanitizer dispensers for public use near restrooms
Working closely with suppliers on inventory contingency plans
Taking steps to ensure thorough cooking procedures
Monitoring employees' international travel history and their health concerns related to COVID-19
Creating a Healthy Environment for Drivers
What can fleet managers and owner operators do? Let's take a look:
Share Information: Post notices regarding regular hand washing in your drivers' cabs and in employee bathrooms. The CDC website offers posters for downloading and printing.
Provide Cleaning Supplies: Provide drivers with disinfecting wipes for their vehicles and instruct them to regularly wipe down surfaces, steering wheels, door handles, tablets, and mobile phones. Also, provide antibacterial hand sanitizer for use when drivers are unable to wash their hands.
Raise Awareness: Advise drivers to be aware of their surroundings in gas stations and truck stops and to distance themselves from individuals who appear to be sick. Encourage them to stop at clean food establishments where employees are practicing good hygiene, such as wearing gloves, if they are directly handling food.
Stress Staying Hydrated: Truckers are particularly prone to dehydration. Many don't drink enough water because they don't want to take frequent bathroom breaks. But water is crucial to their health and job performance. Dehydrated driving is dangerous and can cause fatigue and dizziness, which affect the ability to concentrate. Ensure your office always has an ample supply of water on hand. As an incentive, offer drivers refillable bottles they can take on the road.
Promote Healthy Eating: Provide drivers with coolers to store healthy snacks and sandwiches from home. Make it a priority to have healthy snacks available in your break room or vending machines. Healthy choices are good for your drivers' overall well-being, and they can help cut down on the number of stops in C-stores, truck stops, and fast food restaurants, which reduces exposure to germs.
Keeping your business fully operational in challenging times means making the health and safety of your drivers a top priority. Putting best practices in place, and enforcing them, will pay off in the overall health of your drivers and their ability to do their job — a win-win any way you look at it.