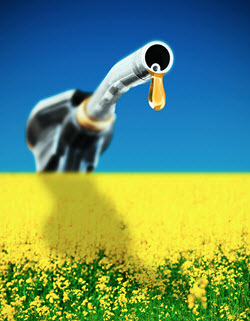 Each December the NTEA—The Association for the Work Truck Industry—conducts their comprehensive Fleet Purchasing Outlook survey to gain insight on the commercial vehicle landscape.
The survey results were released in March and showed that when it comes to alternative fuels and fleets, biodiesel rules.
The survey found that not only is biodiesel the most commonly used alternative fuel option with 18 percent of fleets on board, it is also the number one alternative fuel choice for future interest—meaning more fleets are planning to continue using biodiesel or are planning to start using biodiesel.
So what makes biodiesel the alternative fuels winner? And why are more and more fleet managers choosing biodiesel as their "go to" alternative fuel option?
Here's why….
A Safer and Cleaner Alternative to Petroleum Diesel that is Widely Available
Manufactured domestically, biodiesel is a renewable, clean-burning replacement for petroleum diesel that is made from a diverse mix of natural vegetable oils and fats.
Biodiesel can be blended with petroleum diesel in any proportion and is the first and only EPA-designated Advanced Biofuel in commercial scale production. It is also the only alternative fuel to successfully complete the EPA's emissions and health effects study under the Clean Air Act.
Clean burning means the environment benefits from reduced greenhouse gas emissions, while wide availability—biodiesel is produced in practically every state and pumps at fueling stations are growing daily—means the economy benefits by reducing our dependence on imported fuels which in turn helps to support jobs in communities.
Since it is derived from vegetable oils, biodiesel is much less toxic than petroleum and is readily biodegradable. In fact, biodiesel is less toxic than table salt. To that end, should an accidental spill occur, biodiesel is less likely to harm the environment than spills involving other types of fuel and is far less costly to clean up and to repair damage.
Easy to Implement, Power and Performance
Biodiesel can be used in existing engines, vehicles and infrastructure with few to no modifications needed, making greening your fleet both simple and financially feasible. Additionally, without the need to modify vehicles, your fleet is where it should be—on the job delivering your goods or services.
Biodiesel blends such as the most common B20—20 percent biodiesel/80 percent petroleum diesel—operate in diesel engines from light to heavy-duty, from new to old and unlike other alternative fuels, deliver similar horsepower, torque and mileage as petroleum diesel. Plus, biodiesel provides superior lubrication for engines that not only helps enhance performance, but also extends engine life.
Costs In-Line with other Alternative Fuels
The cost of biodiesel depends on the market price for vegetable oil. Generally speaking, B20 costs approximately 20 cents per gallon more than diesel alone. However, given its other benefits and advantages, biodiesel is a "least-cost" alternative.

In fact, a study by Booz Allen Hamilton found that fleets using B20, had lower total annual costs than if they had used other alternative fuels.

Deciding to green your fleet by switching to biodiesel is a decision that is best made by starting with a call to your fuel provider. Many fuel providers offer alternative "green" fuels as part of their fuel services portfolio and can provide expert guidance on how biodiesel could specifically benefit your fleet operations.

Maybe testing the waters with just a few vehicles powered by biodiesel is the way to go. Or maybe not. A reliable and trusted fuel provider will help you answer that question and help you get started on the road to greening.

The respondents of the 2016 survey represented a range of fleet sizes, vehicle weight classes and vocational truck applications across the United States and Canada from government and municipal fleets to construction, delivery and utility sectors to agriculture and private industry fleets.