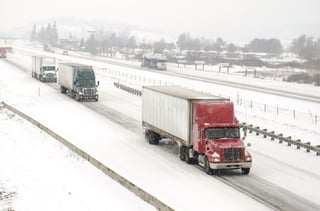 Taking steps to winterize your fleet vehicles, including keeping tanks at least half full, using the right viscosity of oil, topping off fluids and checking wiper blades, tires, brake pads and shoes is key to ensuring your vehicles are prepared for the challenges associated with winter weather.
But just as your vehicles need winterizing, so do the drivers that operate them. Winter weather can mean blizzards, snow, sleet, ice and Arctic-like temperatures that can affect vehicle handling, braking and acceleration, which can test the driving skills of even the most experienced commercial drivers.
Winterizing Means Optimizing Preparedness and Skills
One thing that's certain about winter is that weather and road conditions can change quickly. Rain can suddenly turn into sleet or freezing rain and snowstorms into blinding blizzards.
Make no mistake about it: winter is the most difficult season for navigating roadways. Ensuring your drivers safely get from point A to point B requires preparedness on their part and techniques specific to winter weather conditions.
To that end, follow along for five key winterizing tips to share with your drivers to help them be safe and confident behind the wheel in all weather conditions.
Be Prepared for the Unexpected—You never know what might happen when you're on the road. To be fully prepared for any situation, make sure to have these items in vehicles:

De-Icer/Ice scraper
Shovel
Bag of salt
Tire chains or traction mats
Jumper cables
Flashlight
High-visibility jacket
Extra warm clothes and shoes
Rain jacket
Heavy blanket
Food and water
See and Be Seen—Before starting out, make sure vehicle lights are on and working. Clean any ice or snow off windows, mirrors, lights and reflective tape.

Keep windows defrosted and be aware of your surroundings at all times. And remember to have wipers on and cruise control off.
Be on the Lookout—Watch for glazed conditions on roadways, and to avoid losing control or spinning, slow down when approaching entrances or exit ramps, bridges, overpasses and intersections, as they tend to be icy and also freeze quickly.

Roads that look like they are covered in rain may actually be covered in black ice, so look for the following signs that indicate the possible presence of black ice:


Build-up of ice on mirror arms, antenna or top corner of the windshield
Spray from the tires of the vehicles in front of you has stopped.
Keep It Slow and Steady—When first behind the wheel, take the time to get a feel for how the vehicle handles on the road. In snow and icy conditions, many accidents occur because drivers are traveling too fast for road conditions, so reduce speed and allow plenty of room (time) to react to the vehicles in front of you — a good rule of thumb is ten times the normal stopping distance.

Stay in control by avoiding sudden or sharp movements and hard acceleration. Maintain a consistent and steady speed and avoid excessive braking, as it decreases traction.

If coasting, always engage brakes lights by lightly pressing on the brake pedal so that those behind you will be aware that you are slowing and can adjust their speed accordingly.

Additionally, try not to drive in the ruts of other vehicles. More than likely, their wheels have packed the snow into ice.
Eyes Focused—If the vehicle starts to spin, avoid jerking the steering wheel. Focus on a target that can provide a safe escape — for example, the side of the road or an open, grassy area.

Point the wheels in the direction of the target, but always remember to turn into the skid, rather than turning the steering wheel in the opposite direction.
. . . . . .
Of course, there are times when visibility gets so low and conditions so severe, that it becomes incredibly dangerous for drivers to stay on the road. This is when drivers need to exercise good judgment, listen to weather reports and warnings and decide on an alternate or delayed route.
Keep the communication lines with your drivers open. Winter weather challenges warrant a team effort.