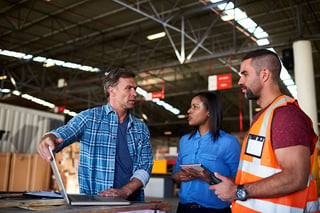 To keep your workforce at the top of their game, you need to be at the top of yours. While every fleet is different, accomplishing this goal as a fleet manager can be as simple as incorporating a few of the most common habits of highly effective fleet managers.
To that end, let's take a look at five common habits compiled by fleet professionals from the National Association of Fleet Administrators and other industry professionals to give you some insight on how adopting these habits can help you:
More effectively manage your fleet
Streamline your operations
Grow your bottom line
Enable the full potential of every member of your team—including yourself
1. Proactively Pursue Safety
Waiting until after an accident occurs to add additional safety features to your vehicles is definitely not the way to go. Get ahead of the curve and protect your drivers and vehicles with the tools needed for them to stay safe on the road—now. The cost of a hands-free device, in-cab camera or driver behavior monitoring device may be an expense, but it is much less expensive than the cost of an accident.
Additionally, conduct safety checks on a regular basis and stress to your drivers the importance of safety on the road. Create actionable goals, reward your best drivers and hold all drivers to a performance standard.
2. Know What's Happening in the Industry
Knowledge is everything in the ever-changing fleet industry. Be aware of what is trending by keeping up with and adopting new technologies, joining a professional organization, following blogs and subscribing to newsletters. That way, when changes occur, instead of reacting, you'll be in the driver's seat, as you have had the time to plan, gather advice from your peers, and make the necessary adjustments to your operations before a mandated deadline catches you by surprise.
3. Upgrade Maintenance Management to Mobile
If the responsibility of keeping up with routine vehicle maintenance and service is on the shoulders of your drivers, make it as effortless and as organized as possible.
To keep everything on track, including reporting, scheduling and inspections, ditch the file folders and scraps of paper, and introduce cloud-based fleet management software that is mobile, automated and instantly accessible by you and approved personnel.
4. Establish Guidelines for Vehicle Purchasing
Without consistent guidelines in place, departments can purchase vehicles for a short amount of time to fulfill a need, which can mean unnecessary expenses and wasteful spending.
When purchasing vehicles, know exactly what the vehicle will be used for and explore bulk purchasing or leasing as an option. Knowing the right time to buy and to sell so you get the best value possible is key. A fleet management company can be of great assistance here, by helping you define the life cycle of your vehicles and putting a purchasing plan in place.
5. Measure and Monitor Data
Successful and effective fleet management is dependent on data tracking and measuring, but bear in mind that tracking and measuring just the basics doesn't provide much insight into vehicle and fleet performance. Tracking and measuring the right data—data specific to your fleet—well, that's another story.
Cost per mile, fuel efficiency, depreciation and accident rate are a few examples of metrics that you might want to explore to help keep you on top of your fleet operations. But remember, solid insight means getting specific with your data.
The Highly Effective Fleet Manager
Following these five best practices will help you stay at the top of your game. Whether your fleet is three vehicles or three hundred vehicles, the safety of your fleet and your drivers is your top priority. While many things will compete for your time, never forget to invest in yourself and work to become the most effective fleet manager possible.
Learn how to better manage and track your vehicles with our web-based and wireless etrac-AVL technology solution.